Lithuanian PM defends decision to permit Russian transits to Kalingrad
Reading Time:
2
minutes
Lithuanian Prime Minister Ingrida Simonyte reacted to criticism on Thursday over her country's acceptance of the transport of civilian-use goods from Russia to Kalingrad across its territory.
"It would be irrational to continue to argue with EU partners" Simonyte said, after the European Commission (EC) on Wednesday clarified its guidelines for transits of sanctioned Russian goods over EU territory to Kaliningrad, a Russian exclave on the Baltic coast between Lithuania and Poland.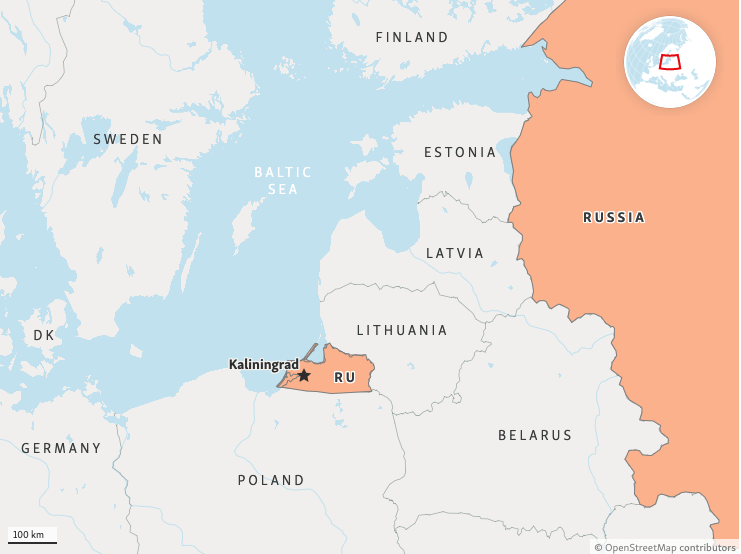 "Any further disputes on this matter would be a real victory for the Kremlin," Simonyte said. Some EU officials have privately criticised the scale and intensity of Lithuania's checks on Russian trains, Euractiv wrote.
EC spokesman Daniel Ferrie described the EC guidelines as "a technical change" and not a "change in position". Lithuania's Foreign Ministry welcomed the clarification, stressing the importance of unity across the EU.
​​Opposition politicians were unconvinced by the lack of exemption for Lithuania, and the government's handling of the dispute. Lithuania's former president Dalia Grybauskaite wrote on Facebook on Thursday that "Lithuanian politicians are performing the role of the coward in a political ballet." Previously Lithuanian officials had opposed any reversal, saying that would embolden the Kremlin.
The announcement ended weeks of consultations between Lithuania and the EC, during which time sanctions came into effect on goods including Russian steel and ferrous metals, wood, cement, and alcohol. Restrictions on coal and oil products are respectively due to come into force on 10 August and 5 December.
The stand-off had prompted threats of "non-diplomatic" retaliation from Russia, which called it a "blockade". Both the EU and Germany have reportedly been worried that Russia could drag German soldiers in Lithuania into military action. Germany's Chancellor Olaf Scholz has openly called for the resumption of sanctioned goods through Kalingrad.
Under the new agreement, transporting sanctioned goods by road remains forbidden, while transits of military and dual-use goods are entirely prohibited. National authorities must carry out border controls and oversee the checking of goods transported by rail.
Lithuania and other EU member states will also be required to monitor whether transit volumes to Kaliningrad remain within the historical averages of the last three years to ensure that sanctioned goods are not used for export to EU countries. 
Former Russian President Dmitry Medvedev said the development represents either lucidity or fear overcoming "Russophobia". Medvedev wrote, in a bizarre post on his Telegram channel, that "the EU has grudgingly admitted that the demands for transit to our Kaliningrad region are fair.
"It is a rare case where cretinism and caveman Russophobia in Brussels have been overcome by lucidity (or) diarrhoea from fear of losing profitable transit through Russia," he added.
However Lithuania's incumbent head of state Gitanas Nauseda welcomed the news in a statement on Thursday, saying the guidelines "will bring clarity", and counter Kremlin disinformation and "unfounded accusations against Lithuania".
Both Nauseda and Simonyte urged speedy implementation of the EU's next tranche of sanctions against Russia. Lithuanian institutions should not be held responsible for the EC's guidelines, Simonyte said.