EU Aid to Bulgaria "in Danger," Amid Political Chaos
Reading Time:
5
minutes
Bulgaria, the poorest EU member state, is sliding into political chaos, throwing its ability to tap into badly needed EU economic recovery aid into question. Currently run by a caretaker cabinet with limited powers, appointed by president Rumen Radev, the country is on the brink of calling a third general election within a period of just six months as the previous two votes produced fractured parliaments unable to form a regular government.
"If a stable government is not formed, the first payments from the (EU) recovery and resilience plan will be endangered," stated Atanas Pekanov, the caretaker minister for EU funding, in a televised interview on Friday.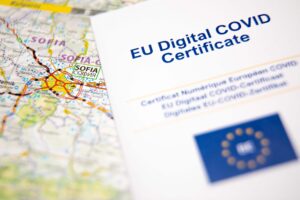 The country's next parliamentary elections are likely to be held together with a still unscheduled presidential election that is due in October or November, making the situation even more tenuous.
The EU has set aside EUR 6.4 billion in grants for Bulgaria under its Recovery and Resilience Facility (RRF), the centerpiece of its EUR 750-billion Next Generation EU plan to recover from the COVID-19 pandemic. The country will also have access to loans of up to EUR 4.5 billion euros.
However, Bulgaria and the Netherlands, both saddled with government crises, are the only ones out of a total of 27 EU members that have not submitted their national plans to the European Commission yet.
Under the RRF rules, it will take three months after submission for Sofia (and for the Hague) to get a blessing from Brussels and the member states for the plans and receive the first 13% installments from their total amounts.
Cantankerous parliament
The government of Bulgaria's previous prime minister Boiko Borisov had drafted the plan but decided not to submit it before the end of its 4-year term in office last March. Weakened by nine months of street protests in response to his alleged authoritarian style and corruption, Borisov said his successor should submit the plan after a public discussion and broad approval by a newly elected parliament.
However, two general elections – a regular one on 4 April and a snap one on 11 July – have failed to produce a parliament with a clear majority, reflecting bitter divisions between the parties and growing disenchantment among voters. The turnout was 42.2% at the latest vote, compared to 50.6% on 4 April.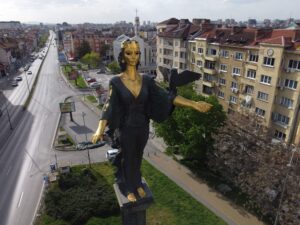 Today, the 240 seats in the unicameral National Assembly are shared among six parties, with the anti-elitist "There Is Such a People" (TISP) group of television entertainer Slavi Trifonov having the largest number of lawmakers: 65.
Borisov's center-right GERB has 63 members, while the Bulgarian Socialist Party (BSP) of former communists controls 36 seats. Meanwhile, the Liberal reformist Democratic Bulgaria (DB) has 34 deputies, the mainly ethnic Turkish Movement for Rights and Freedoms (MRF) 29 seats, and the fervent anti-corruption campaigners of "Arise BG-We Are Coming" have 13.
TISP, which under the Constitution was the first to try and form a government, failed because of disagreements with potential allies BSP, DB and Arise BG on the line-up of the proposed cabinet.
A day before parliament was scheduled to vote on the TISP government, Trifonov withdrew his nominee for prime minister, Plamen Nikolov, a completely unknown trader of swimming gear, after the other parties asked him to replace several ministers in exchange for their support for a TISP minority government.
Borisov, whose party is the second to receive a government formation mandate from Radev, announced earlier he would forgo his turn. After a decade in power, GERB is in isolation. Former PM Borisov and president Radev are locked in a bitter standoff, constantly trading barbs in the media and on social networks.
Bulgaria's Constitution leaves one last chance to Radev – to pick one of the smaller parties and ask it to form a government. If this last ditch effort fails, he must appoint another caretaker government and schedule a new election within two months.
Various lawmakers have called for a national unity government based on a cross-party agreement on Bulgaria's most urgent priorities and on up to a one year term of office. Observers doubt the idea will fly because of strong animosity among the parties. Pollsters say another election is not likely to have a much different outcome.
"A new general election seems more likely than forming a government in this parliament, but the trend of political fragmentation will persist for at least another two or three months," explained Ognyan Minchev, a respected political scientist from the Sofia University, to Central European Times. "We may have a new situation after the presidential election this autumn and probably some prospect of breaking the deadlock," he added.
Dire straits
Delayed EU funding is just one among many of Bulgaria's woes.
For one, only 19% of the country's adult population is fully vaccinated against COVID-19, the smallest share in the EU. The EU member state also needs an urgent update of its 2021 budget to meet basic needs such as countering a 4th wave of COVID-19, pandemic support for businesses and population, paying out pensions, and social assistance to the needy. But, mired in petty politicking, parliament has thus far failed to even form its committees assigned to draft such an amendment.
Another Italy?
Local observers have drawn parallels between the TSIP election victory on July 11 and the rise of the Five Star Movement of television comic Giuseppe (Beppe) Grillo to the largest parliamentary party in Italy's March 2018 election.
Trifonov, like Grillo, gained popularity on a late night entertainment and political satire show on the commercially-run bTV channel he moderated for 19 years, starting in 2000. In 2019 he decided to switch to politics, ended his bTV contract and started a small TV channel of his own. He began capitalizing on broad disillusionment with mainstream politicians and held televised public casting sessions for politicians to run on the TSIP ballot.
In 2016, he managed to initiate a referendum and win the support of 2.5 million Bulgarians for a list of demands, widely seen as populist. However, the support he won was not enough to force parliament to pass corresponding legislation.
The referendum questions included changing Bulgaria's proportional electoral system for a majority representation one like in Britain or France; reduction of the number of lawmakers to 120, cutting party subsidies from the state budget to BGN 1 (50 euro cents) from the current BGN 8 (about EUR 4) per vote, and the election of local police chiefs by a popular vote.
Like Grillo, Trifonov himself is staying out of any political office. Media and observers have criticized him for shunning reporters and addressing the public mainly through Facebook and his TV channel.
A battle of two generals
President Radev has said he would run for a second term, yet no other party has pitched its presidential candidate yet. Trifonov, meanwhile, has said his party would back Radev in an evident hope to capitalize on the president's approval ratings, which are above 50%.
Radev, 58, a former Bulgarian Air Force commander, won the 2016 presidential election garnering 60% of the vote after being nominated by the BSP. He has sharply criticized Borisov's policies and his caretaker cabinet has aggressively engaged in undoing them, blaming the previous government for delivering sweet public procurement deals to friendly businesses and illegally spying on opponents.
Borisov, 62, the second-longest serving prime minister to date and a former police general, dismisses those allegations as unsubstantiated "nonsense" and accuses Radev of dividing the nation by deliberately taking the side of anti-government protesters in defiance of his constitutional role as an impartial conciliator.
For their part, GERB party members have repeatedly emphasized Radev's opposition to EU sanctions against Russia and his failure to condemn its 2014 annexation of Crimea from Ukraine.
– Veselin Jelev /Sofia