Orban meets Putin, 'friend' Xi, at One Belt and Road Forum in China
Reading Time:
3
minutes
Chinese President Xi Jinping backed elevating relations with Hungary and after meeting Hungarian Prime Minister Viktor Orban in Beijing, called him a "friend".
Viktor Orban previously announced that he signed ten economic agreements in Beijing, where he arrived on Sunday to participate in the third summit of the One Belt, One Road Forum.
"We consider you a friend," Xi told Orban. "You have actively supported jointly building the Belt and Road and made contributions to promoting high-quality development of the Belt and Road cooperation."
Orban wrote on Facebook: "Discussion with President Xi. Economic cooperation instead of closure: this is the Hungarian model. We are working on strengthening Hungarian-China relations – this is good for Hungary and for the European economy."
He also posted that "China is the second largest economy in the world and the largest foreign investor in Hungary this year. Instead of blocking and blocking, the aim of Hungary is to improve our economic cooperation. We worked on this today with the Prime Minister of China."
Hungary PM visits Commercial Bank of China
Orban met the world's largest bank Commercial Bank of China (ICBC) chief Chen Siqing at its headquarters. At the talks, Orban highlighted ICBC's role in the development of Hungary's economy and trade, as well as in Hungary-China trade.
The prime minister underlined plans to support Chinese companies investing in Hungary and said he counted on the cooperation of the ICBC, which has 415 branches in 49 countries, including 20 in Africa.
According to reports, the Chinese have ceased financing a multi-billion dollar Belt and Road rail construction linking Budapest, Hungary, and Belgrade, Serbia. China reportedly ordered their employees to halt work, throwing the future of the project into doubt.
"China and Hungary are faithful partners in the Belt and Road initiative," Chen said.
Chen said his bank would promote a close tie between the Chinese initiative and Hungary's national strategy, better financial services in Hungary and in central Europe.
Putin, Orban hold unannounced meeting
Since regaining power in 2010, Orban has espoused an "Eastern Opening", becoming the closest allies of Xi and Putin in the EU meanwhile.
Western doubts regarding the Belt and Road have been related to Xi's aggressive leadership style and weakening ties on trade, human rights and Taiwan. Italy, the only G7 nation to ever join, recently declared its intention to leave next year.
As other EU member states considered decoupling from China, Hungary – under Orban since 2010 – has increasingly moved into its orbit.
Hungary even vetoed an EU official statement decrying Beijing's security law in Hong Kong, which China says helps maintain order after anti-government and anti-China protests in 2019.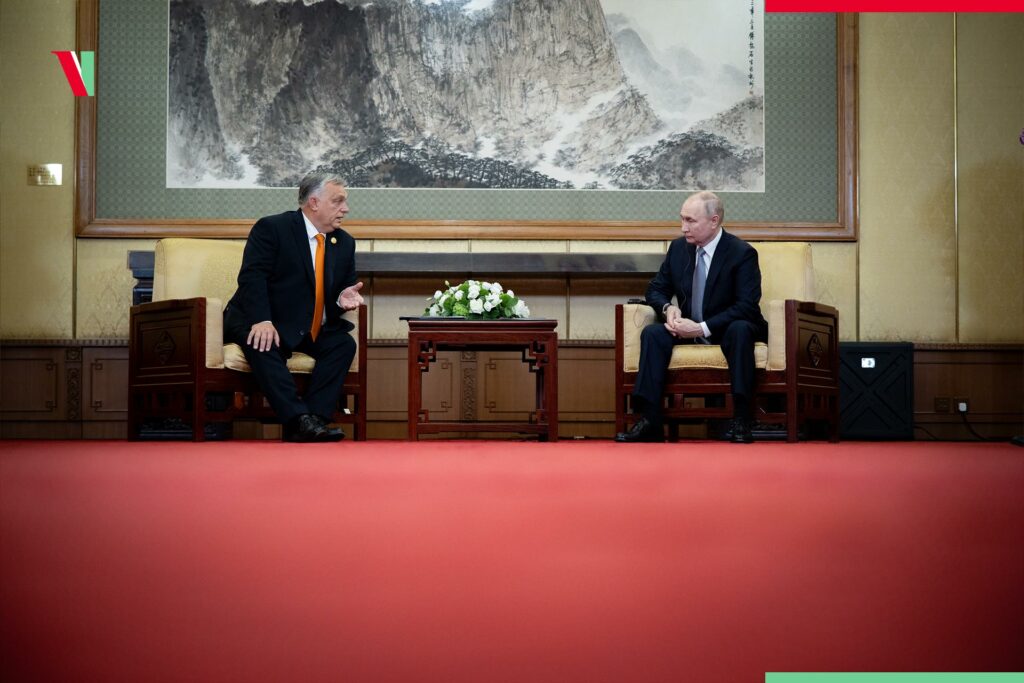 After no prior announcement, Orban and Russian President Vladimir Putin met in the government guest house where the Russian leader was staying in Beijing.
The Hungarian government has meanwhile been doveish on Russia's invasion of Ukraine. Now Orban is the first EU leader to hold personal talks with Putin since the International Criminal Court (ICC) issued an arrest warrant against the Russian leader in March, accusing him of the war crime of illegal deportation of children from Ukraine.
Hungary has opposed many EU initiatives to support Ukraine, gets most of its crude oil and gas from Russia, Orban told Putin via an interpreter on Russian television. Orban said he has never wanted to oppose Russia and is trying to salvage bilateral relations.
State news agency MTI reported that Putin and Orban discussed cooperation in nuclear energy and natural gas and crude oil transportation. Neither party had previously announced the talks, angering some politicians back in Europe.
Orban called the Russian aggression against Ukraine a 'military operation', not a war, local website 444.hu wrote, based on the video of the Orbán-Putin meeting.
Putin and Orban last met face-to-face in Moscow on 1 February 2022, three weeks before Russia's full-scale invasion of Ukraine, which Russia terms a 'special military operation'.
"It was very, very unpleasant to see that," Estonian President Kaja Kallas told Reuters. "How can you shake a criminal's hand, who has waged the war of aggression, especially coming from a country that has a history like Hungary has?"
Hungary backs Hungarian importance for car market
Hungary is essential to Europe's changing car market and guarantees economic growth, Hungarian Foreign Minister Peter Szijjarto said in Beijing on Wednesday, adding that Hungary is set to host manufacturing plants of Germany's three car making giants, and five of the ten largest battery makers, a strategic area for China.
Citing Hungary's efforts to become a meeting point of the two economies, he called for reviving "mutual respect" and against creating global blocks for politics and economics, saying Hungary and central Europe "have always lost out" on the latter. The joint interest would be in connectivity, he said.
Hungary is seen as the most likely opponent to an unanimous vote on whether to open EU accession talks with Ukraine, due in December.