Hungary could decouple from Russian gas – report
Reading Time:
3
minutes
Hungary could realistically replace Russian gas imports, according to local analysts, who say its dependence is reliant on the will of Hungarian politicians and economic players.
Gas supply already shifting away from Russia
Hungary's procurement of sources has broadened and the partial replacement of Russian gas has begun, local business website G7 writes, as its natural gas supply route was completely transformed in 2022.
The country's key Ukrainian gas transit route was replaced by the pipeline from from Serbia, under an agreement made in 2021. Meanwhile the number of pipelines that do not exclusively deliver Russian gas increased significantly, G7 notes.
Infrastructure already in place
Although significant transport capacities have been built in Hungary, most went almost entirely unused before the energy crisis that resulted from Russia's invasion of Ukraine on 24 February 2022.
Although the diversification of gas procurement has been a goal for many years, in recent years, no real progress had been made in this area either in Hungary or at the EU level.
From 2019-21, roughly 70% of incoming gas arrived in Hungary via the Ukrainian pipeline network, sometimes via Slovakia, while the remaining – typically Russian – gas arrived almost entirely from Austria.
Analysts refute claim that Russian gas indispensable
While the Hungarian government has argued that it has no alternative to Russian gas, this is not accurate, G7 writes, as routes for non-Russian gas that were often under-utilised before 2022 could accommodate very significant volumes of gas imports.
Last year it became clear that Hungary can import gas from sources other than Russia, G7 adds. The first significant change in Hungary's domestic natural gas supply route came in the autumn of 2021, when a new long-term deal concluded with Russia entered into force, under which Hungary agreed to buy gas through Serbia, rather than Ukraine, from Russian energy firm Gazprom. This saw Ukraine lose transit fees, leading to a dispute between it and Hungary.
Russians were now delivering their gas to Kiskundorozsma, south Hungary, rather than Beregdaro, eastern Hungary, G7 recalls, but the Serbian route did not entirely replace imports from Ukraine.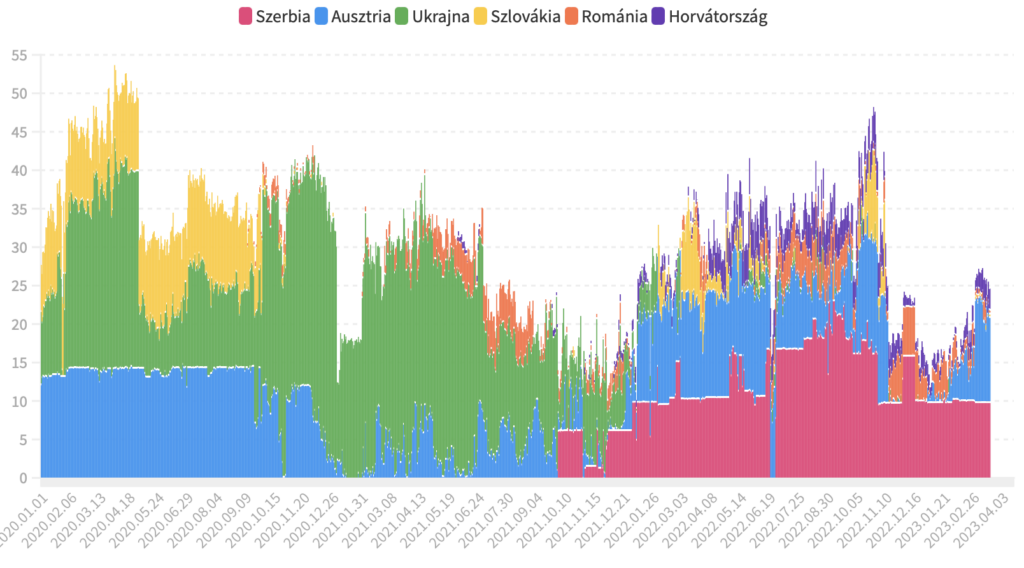 Imports from Romania, Croatia, Slovakia on the rise
In 2022, gas imports from Austria stayed level, while 1bn cubic metres of gas arrived to Hungary from Croatia, which does not receive Russian gas, and Romania, which has a significant production of its own. Imports from Slovakia also rose last autumn.
G7 notes that although Gazprom continues to deliver to Slovakia via Ukraine, this gas was mostly sent to Austria in 2022, while significant deliveries of this to Hungary only took place in the weeks after the invasion.
An energy expert told G7 that it is difficult to say what proportion of the Romanian and Austrian deliveries contain gas from Russia, but it is still clear from flow directions that more energy arrived in Hungary from outside Russia last year.
Non-Russian capacities surpass Hungary's usage
G7 estimates that Hungary's shift from Russian to other sources in 2022 may represent 10-15% of total imports, adding that this still used a fraction of the relevant pipelines' capacities.
A total of more than 13bn cubic meters of gas could be shipped to the country annually from Austria, Romania, Croatia and Slovakia, G7 writes, which is 30% above Hungary's needs. In principle, natural gas of non-Russian origin could come from these directions, and 'bottlenecks' are becoming increasingly rare, it adds.
All of this indicates that there would be a realistic chance of replacing Russian gas, or at least significantly diversifying supply sources – the question is whether there is a political and business will for this, G7 concludes.