Poland tops EC inflation list for 2021, 2022
Reading Time:
2
minutes
Poland is predicted to have the highest level of inflation of 6.8% in Central and Eastern Europe (CEE) – and the EU as a whole – this year, according to a new European Commission (EC) forecast. The EC's prediction for Poland is way over the average predicted rise in the EU (3.9%) and the Eurozone (3.5%).
Also facing steep consumer price rises are Lithuania, which is forecast for inflation of 6.7% in 2022, as well as Slovakia (6.4%), Bulgaria (6.3%), Estonia (6.1%), Latvia (5.9%), Czechia (5.8%), Hungary (5.4%) and Romania (5.3%).
Price pressures are likely to remain strong until the summer, after which inflation is projected to decline as growth in energy prices moderates and supply bottlenecks ease, the EC wrote. Inflation in the EU is forecast to increase to 3.9% in 2022, declining to 1.9% in 2023, it added.
The three countries in CEE with gentler predictions from the EC are Slovenia, where prices are expected to rise by 3.7% this year, Croatia (3.5%) and Austria, where inflation will only reach 3.3% in 2022, according to the EC forecast.
European Commissioner Paolo Gentiloni said: "we are still in an environment of negative rates and very good financing conditions for our economy, and this is one of the fundamentals that can support a good level of growth for the next months. The outlook for inflation, but also for the overall economy in Europe, is also dependent on tensions between Ukraine and Russia," he told CNBC. "Risks to the growth and inflation outlook are markedly aggravated by geopolitical tensions in Eastern Europe," the EC said in a statement.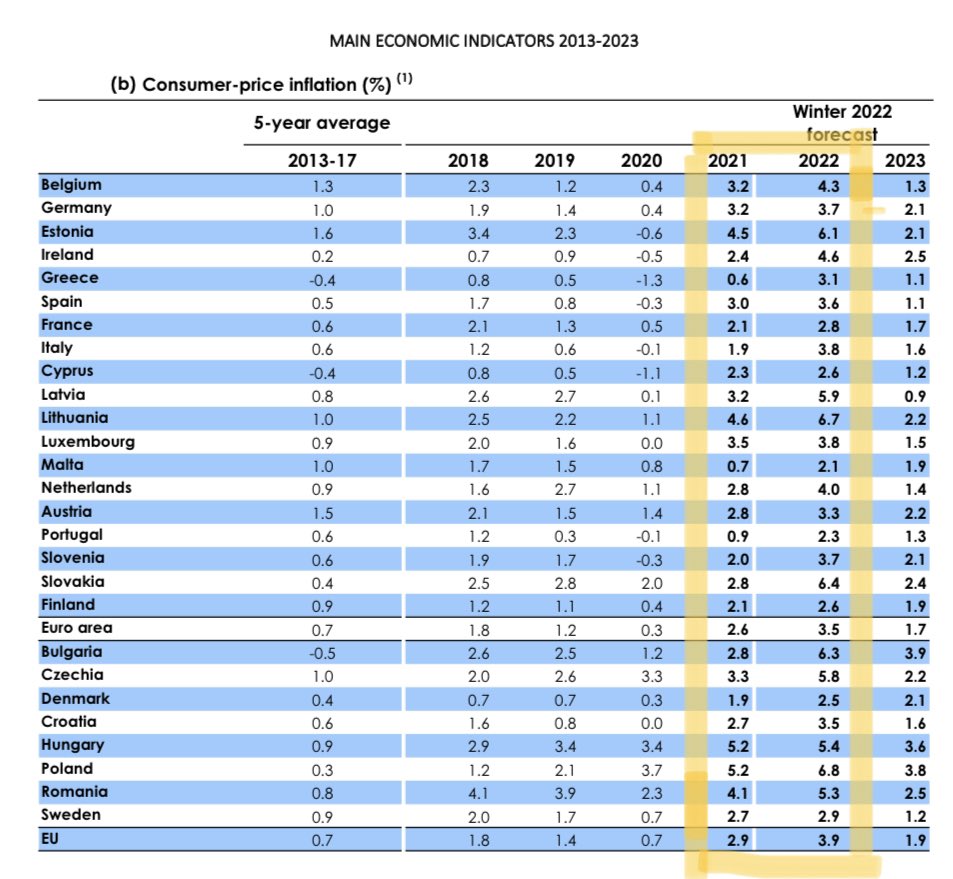 Poland was also top of the CEE list for inflation in 2021, this time jointly with Hungary, which both saw a rise of 5.2%. Last year Lithuania had the third highest consumer price rises in CEE, with 4.6%, just ahead of Estonia (4.5%). Romania had relatively high inflation, with a 4.1% rise in 2021, followed by Czechia (3.3%) and Latvia (3.2%).
Austria, Slovakia and Bulgaria all tied on 2.8%, just above Croatia with a 2.7% inflation rate. Slovenia, where consumer prices rose by only 2% last year, was the only CEE country below the Eurozone area average of 2.6%. In the EU as a whole, inflation rose by 2.9% last year.