Austria, Estonia, Croatia high on organic farmland rankings
Reading Time:
2
minutes
Austria (26%) and Estonia (23%) had the EU's highest proportions of organic land within their total utilised agricultural area (UAA) in 2020, according to recent data released by Eurostat.
In 2021, the area used for organic farming expanded to 15.9mn hectares (ha) – or just under 10% of the total UUA in the EU – up from 14.7mn ha in 2020.
Overall organic agricultural production in the EU is on the rise, and the other countries in Central and Eastern Europe (CEE) with organic farming shares above 10% were Czechia, Latvia and Slovenia.
On the other hand, Eurostat notes, six EU countries had organic farming shares below 5% in 2021, with CEE's worst performer, Bulgaria (1.7%), in second last, ahead only of Malta (0.6%).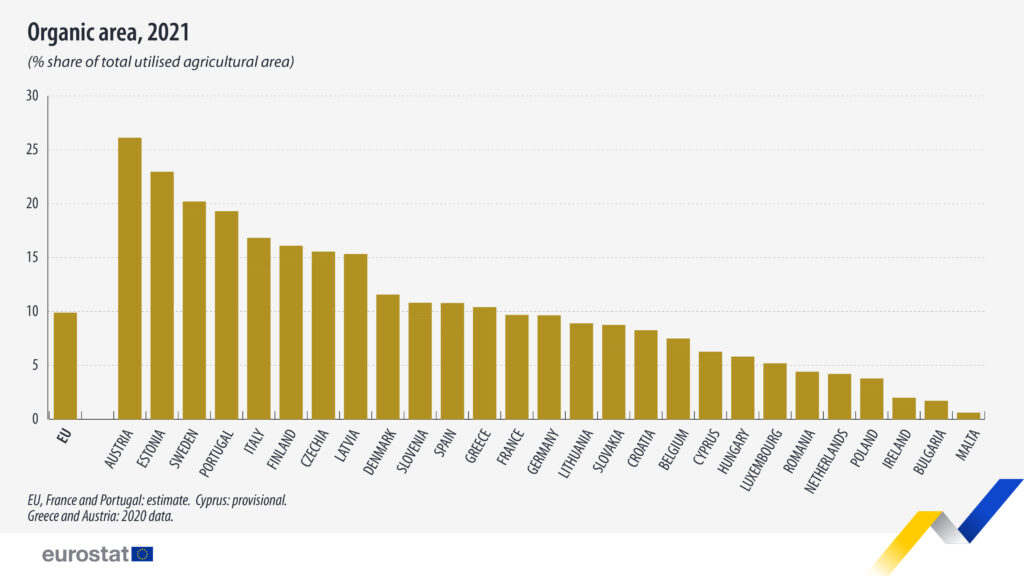 Croatia nearly quadruples organic farming in last decade
From 2012-21, organic farming areas increased in almost all EU countries. Croatia increased its share by 282%, with its "organic farming nearly quadrupling", Eurostat noted – only one percentage point behind first-placed Portugal. Hungary and Romania also more than doubled their UUAs, with increases of 125% and 101% respectively.
Eurostat underlined that organic farming covered an estimated 15.9mn ha of the EU's agricultural land in 2021, up from 9.5mn ha in 2012.
More than half of the total organic agricultural area in 14 EU countries was dedicated to arable land crops in 2021. Meanwhile, approximately 6.6% (5mn) of the EU's bovine animals were reared using organic methods.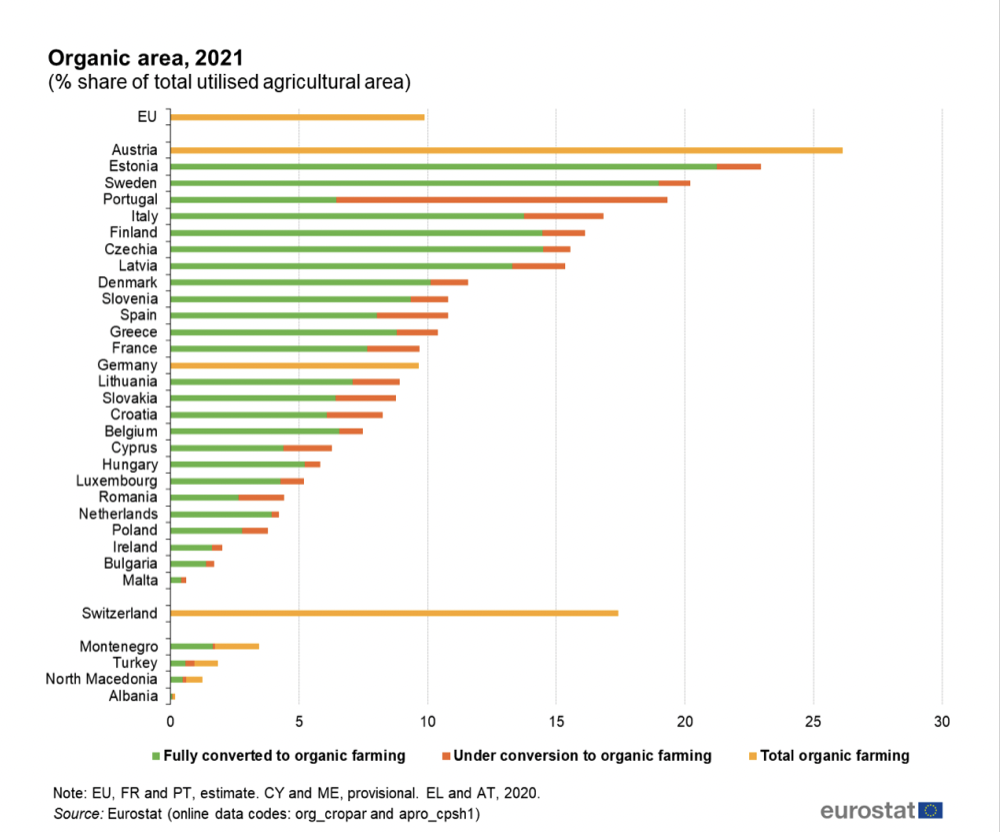 The continuous expansion of the total organic area in the EU is in line with the objectives set by the European Commission (EC) with its Farm to Fork Strategy.
One of the main goals of this strategy is to achieve 25% of the EU's agricultural land being dedicated to organic farming by 2030. It also aims to make food systems fair, healthy, resilient, sustainable and environmentally friendly.
According to the EC, Farm to Fork will accelerate the transition to a sustainable food system that should: have a neutral or positive environmental impact help to mitigate climate change and adapt to its impacts reverse the loss of biodiversity ensure food security, nutrition and public health.
The EC says it will ensure that everyone has access to sufficient, safe, nutritious, sustainable food, and also preserve the affordability of food while generating fairer economic returns, fostering the competitiveness of the EU supply sector and promoting fair trade.
Farm to Fork is a key part of the European Green Deal, which aims to make Europe the first climate-neutral continent by 2050. According to the EC, the Green Deal "maps a new, sustainable and inclusive growth strategy to boost the economy, improve people's health and quality of life, care for nature, and leave no one behind".