Croatia tops European tourism poll
Reading Time:
2
minutes
Croatia had the highest share of tourism in total gross value added (GVA) at 11%, EU statistics office Eurostat finds in a newly released report entitled "Tourism Satellite Accounts in Europe".
GVA is output produced after deducting the intermediate value of consumption, or gross domestic product added to product subsidies, minus the taxes levied on the products.
The second best-performing country for GVA in Central and Eastern Europe (CEE) was Austria, which placed fifth with 5%, behind Portugal (8%), Spain (7%) and Italy (6%).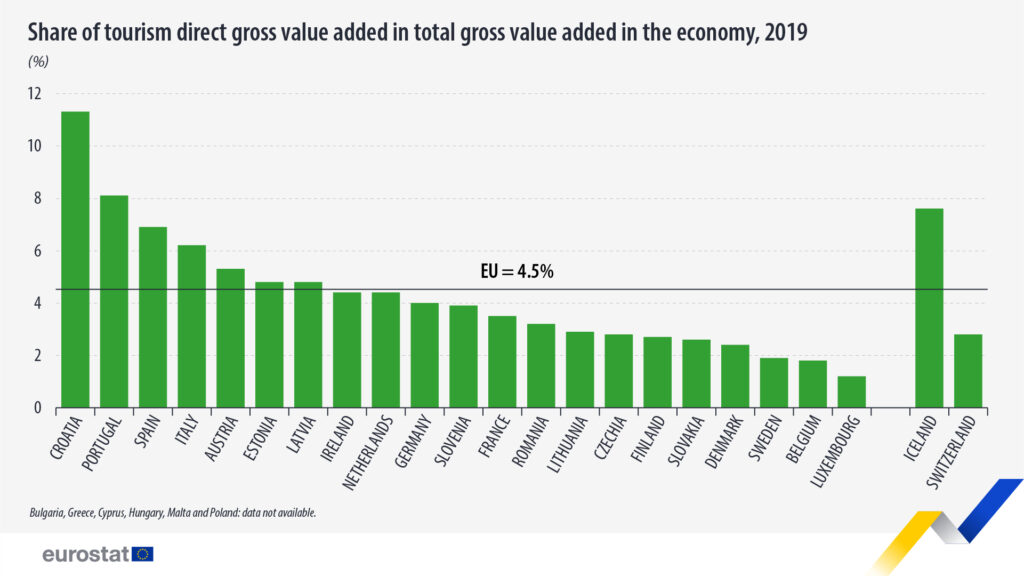 Pandemic hit tourism by EUR 184bn in countries surveyed
The Eurostat report, which combines data from 2019 and 2020, also offers a glimpse into the impact of the COVID-19 pandemic on the European tourism industry. 
The gross value added directly generated by tourism in Europe amounted to around EUR 572bn in 2019, according to the report, accounting for 5% of the total gross value added in the EU economy.
However in 2020, the first year of the pandemic, Europe's tourism industry experienced a significant decline, with total direct gross value added dropping by EUR 184bn, or 32% year-on-year. This decrease caused a one-percentage-point drop in the share of the tourism sector in the European economy.
The decline was in line with earlier national account estimates, as three of the four industries that experienced an over-25% decrease in gross value added were tourism-related, including travel services (down 67% from 2019 to 2020), air transport (66%), and hospitality (41%).
The report noted that partial data for 2020 was provided by 14 countries, including Czechia, Lithuania, Austria and Slovenia. As the 14 countries represent around 54% of European tourism, these figures are not necessarily representative of the entire EU. Data on tourism direct gross value added were not available for Bulgaria, Greece, Cyprus, Hungary, Malta and Poland.
Used for the report to measure tourism activity and its significance to national or regional economies, was the Tourism Satellite Accounts framework. This was developed by Eurostat, the United Nations, UN World Tourism Organisation, and the Organisation for Economic Co-operation and Development.
The framework mainly involves spending by domestic and foreign tourists within a country, but it can also include value added created by local service providers for trips residents take abroad. The figures presented in the report relate only to tourism direct gross value added and do not include indirect economic effects.