Poland, Baltic states meet NATO's 2% target
Reading Time:
2
minutes
NATO's annual report for 2022 reveals that only 7 countries of the 30-country defence alliance met the military spending target of 2% of GDP.
A total of five of the seven countries that reached the target are from the Eastern side of Europe: Lithuania, Poland, Estonia, Latvia and Greece. The latter country had the highest rate of expenditure, with 3.54% of Greece's GDP now dedicated to military spending.
The US and the UK were the other two NATO member states to exceed the 2% spending target set in 2014 in response to Russia's annexation of the Ukrainian peninsula Crimea that year.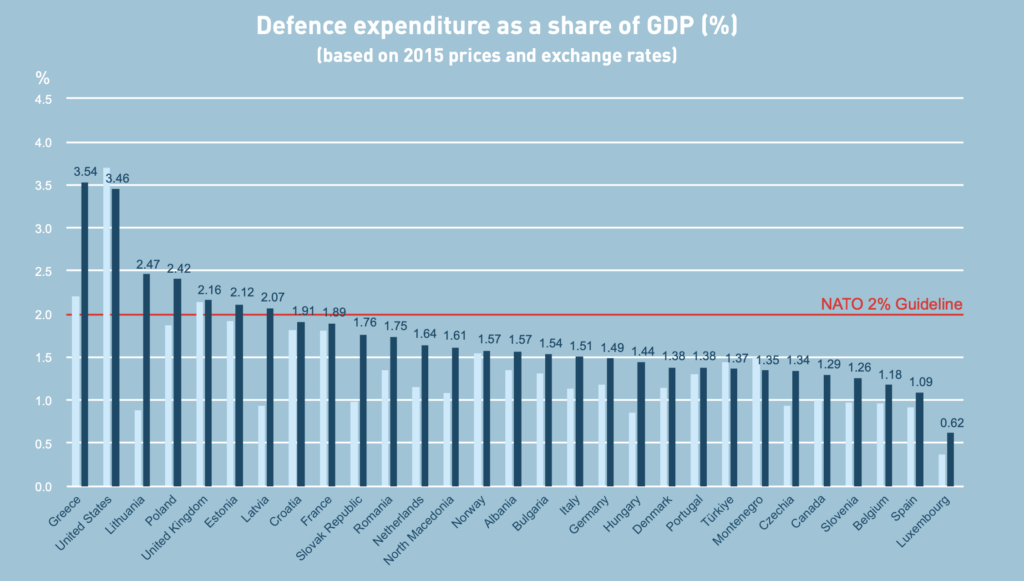 The laggard in the Central and Eastern Europe region was Slovenia, which, despite upping its defence investment to 1.26%, was still well below the 2% target, followed by Czechia (1.34%), and Hungary (1.44%).
NATO Secretary General Jens Stoltenberg said on Tuesday, 21 March, that "Putin's invasion was a shock, but it was not a surprise… so when Russian tanks rolled into Ukraine, we were ready.
"Within hours, we activated our defence plans from the Baltic to the Black Sea. We put 40,000 troops under NATO command, with a significant air and maritime presence, and doubled the number of NATO battlegroups from four to eight," the NATO chief recalled.
Stoltenberg sees 2% as minimum, not ceiling
NATO wrote that in "2022, seven Allies met the guideline of spending 2% of their Gross Domestic Product on defence. In 2014, only three Allies met the guideline. The United States accounted for 54% of the Allies' combined GDP and 70% of combined defence expenditure. Total NATO military spending in 2022 was estimated to exceed USD 1 trillion."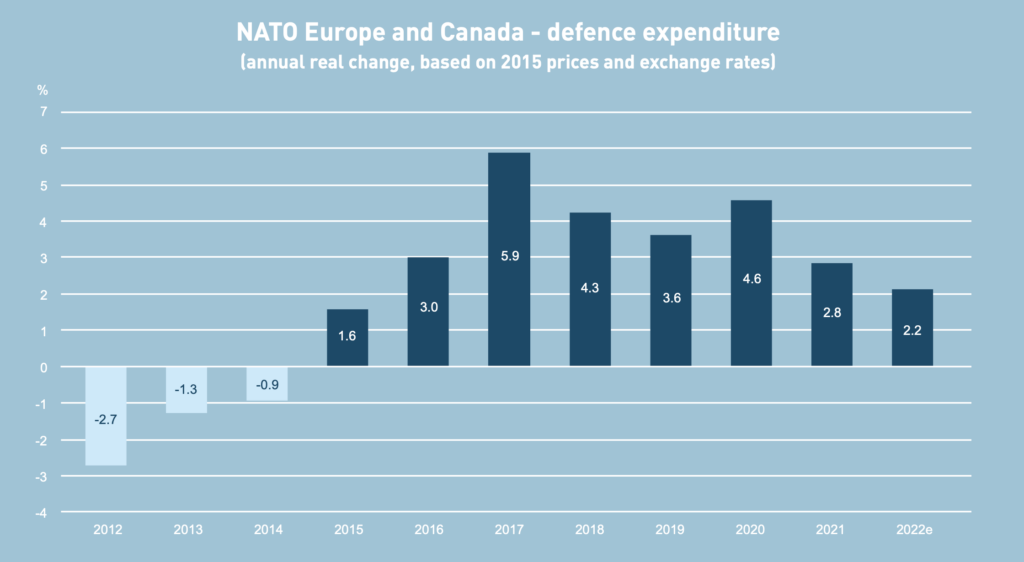 Stoltenberg called on allies to accelerate their defence spending. "We are moving in the right direction, but we are not moving as fast as the dangerous world we live in demands," he said, adding that "it is obvious that we need to do more, and we need to do it faster."
While some members of the North Atlantic Treaty Organisation are pushing for higher military expenditure in the light of Russia's invasion of Ukraine on 24 February 2022, others are hesitant to raise their defence budgets in proportion to GDP.
NATO wrote that "most Allied citizens (74%) think that defence spending should either be maintained at current levels or increased, compared to 2021 (70%). Just 12% think less should be spent on defence."
Stoltenberg said he expects NATO members to agree on larger defence expenditure pledges at the organisation's upcoming Vilnius summit in Lithuania in July.