Lithuania decade's most improved country in region, leading prosperity report finds
Reading Time:
3
minutes
Estonia is named the most prosperous country in Eastern Europe, and the 21st globally, in the newly-released 2023 Legatum Prosperity Index.
Legatum's 16th annual survey praises the Baltic country's "effective policy response" to Covid, which meant "Estonia's pandemic-period contraction was one of the smallest in Europe", and its "GDP is comfortably above pre-pandemic levels".
The libertarian think-tank notes that Estonia's "strong digital services sector was able to operate with minimal disruption during lockdowns, helping to cushion the economic shock," and ranked Estonia at 14th in the world for Economic Quality, up nine places from 2013.
Region outstanding for education, living standards
According to Legatum, Eastern Europe is strongest in the categories of living conditions and education, two of the categories it assesses alongside safety and security, personal freedom, governance, social capital, infrastructure and market access, economic quality, enterprise conditions, investment environment, health, and natural environment.
The region's prosperity has risen at the third fastest rate over the last ten years, with the largest improvements coming in social capital, infrastructure and market access.
For example, the percentage of people saying their city or region is a good place for ethnic minorities to live has risen from 41% to 74% over the last decade.
"Worryingly", Legatum adds "like many other regions", Eastern Europe "has seen a deterioration in personal freedom, with 14 out of 23 countries deteriorating".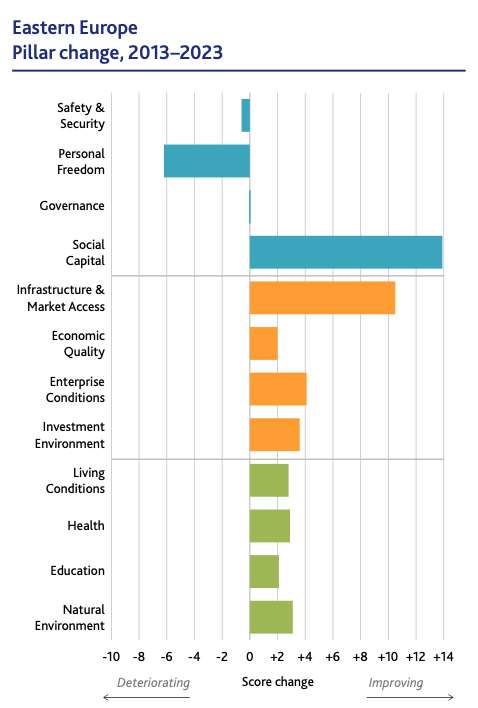 Lithuania decade's best regional performer
According to the Index, Lithuania's prosperity improved the most in the region over the previous decade, putting the country at 32nd globally.
Legatum notes that increases in institutional trust, with substantial police force reforms since independence, have led to an increase of public confidence in local police by 67 ranking places.
The Lithuania has risen from 159th in Social Capital ten years ago to 129th today, although voter participation remains among the worst in the EU, ranking 113th.
Poland (37th), the think-tank notes, saw its executive constraints deteriorate at the greatest rate globally from 20th to 58th.
Since winning the 2015 election, Poland's nationalist conservative PiS government has enacted numerous measures damaging to the country's democratic process, including judicial reforms that allow the executive to select the supreme court chief and attempts to shut down independent media.
Meanwhile, personal freedom fell 32 places in Poland, with media censorship falling 108 places since 2013 and overall prosperity deteriorating three places, to 37th, in the same period.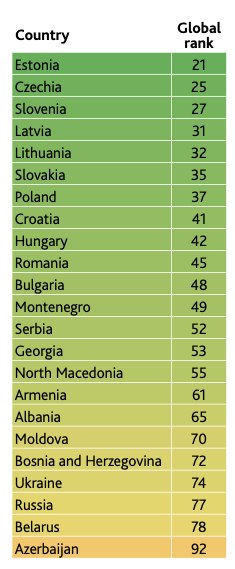 Slovakia (35) was amongst the most improved countries for social capital, Legatum wrote, adding that growth in interpersonal trust, social tolerance and social networks drove a 73-rank hike, from 112th to 39th. Meanwhile 92% of Slovaks feel they are "generally treated with respect".
Hungary (42) is found to be a laggard in the new list, as its prosperity increased at the lowest rate in the region. Since coming to power in 2010, Hungarian Prime Minister Viktor Orban's government has pushed through reforms that give it greater control over the country's institutions and judiciary while suppressing free speech, Legatum writes. These changes saw governance plummet from 59th to 92nd, the second most precipitous fall in the region.
Legatum sources data from pollsters and NGOs including Gallup World Poll, World Development Indicators, International Telecommunication Union, Fragile States Index, Worldwide Governance Indicators, Freedom House, World Health Organization, World Values Survey, Amnesty International, and the Centre for Systemic Peace.
According to UK outlet Open Democracy, the Legatum Foundation is controlled by Christopher Chandler, a Dubai-based private hedge fund billionaire originally from New Zealand. It is registered in Bermuda and controlled by a company in the Cayman Islands, oD added.
Christopher Chandler and his older brother, Richard, have been described as "disaster capitalists". They created a hedge fund in the 1980s after selling the family department store in Hamilton, New Zealand.
The brothers "piled into Russia in the 'shock therapy' years when the Soviet Union's state-run businesses were rapidly privatised" and its income "has grown significantly in recent years, from £35,000 in 2012, to more than £4m in 2016, its accounts reveal", oD wrote.
Legatum found Azerbaijan (92) to be the least prosperous country in Eastern Europe, despite climbing at the second greatest rate in the region. Enterprise conditions were up 31 places, to 47th, over the last decade. Positive government measures made during this time period have included simplied customs procedures and tax reforms.