Europe's drought worst in 500 years – EC report
Reading Time:
3
minutes
Slovakia, Hungary, Romania and Moldova were among the European countries most affected by low rainfall rates in the three months up to 10 August, according to the latest report from the European Commission (EC) research body Global Drought Observatory (GDO).
Other badly hit regions in Central and Eastern Europe (CEE) included large areas of the western Balkans and a wide swathe of Ukraine. The report warns that the situation is worsening in CEE countries including Romania, Hungary, Serbia, Ukraine and Moldova.
According to the GDO report, two-thirds of Europe is under some sort of drought warning, and soil has dried up across 47% of the continent.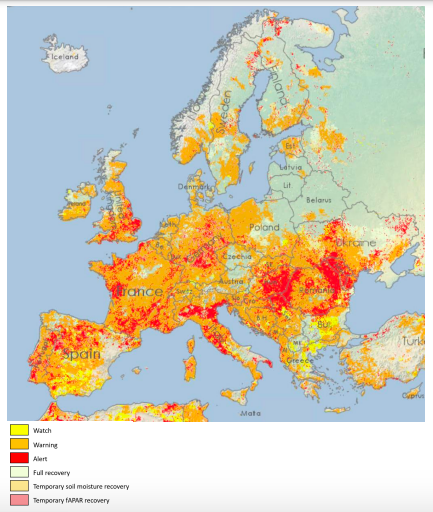 Responding to the report, the EC warned that the preliminary data suggests "the current drought still appears to be the worst since at least 500 years.
"The combination of a severe drought and heatwaves has created an unprecedented stress on water levels in the entire EU," EC Research Commissioner Mariya Gabriel said. "We are currently noticing a wildfires season sensibly above the average and an important impact on crops production," Gabriel added.
According to the GPO report, "negative FAPAR anomalies" – indicators of a widespread stress on vegetation – were apparent in Hungary, northern Serbia, and western and eastern Romania. Elsewhere, conditions remain mostly stable.
Regions that had already been affected by drought in the spring were the ones with the most worrying conditions in August. Drought hazard has been increasing in Romania, Hungary, northern Serbia, Ukraine and Moldova, while recoveries have been observed in southern Czechia and northern Austria.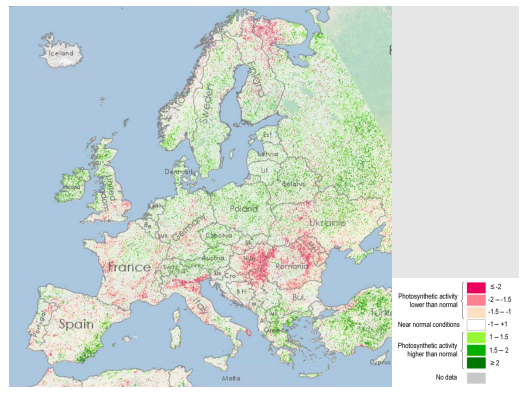 The dry spell will hit crop yields, the report warned. In the EU as a whole, forecasts for harvests are down 16% for grain maize, 15% for soybeans and 12% for sunflowers, compared to the five-year average.
​​In late July, Romanian daily Ziarul Financiar daily reported that drought will significantly diminish Romania's cereals harvest. Around 75% of Romania's surface is affected by various phases of drought, and in the hardest-hit county, Vrancea, crops are entirely damaged on 70% of the farming area, the business daily added.
Meanwhile the Slovak Interior Ministry reported that emergency situations had been declared in 11 municipalities due to lack of drinking water. The country's hydro-meteorological institute announced that extreme drought had hit more than half of the territory of Slovakia, right-wing daily SME reported.
In another of the worst-hit CEE countries, Hungarian Agriculture Minister Istvan Nagy earlier this month said the country's water management system requires a "thorough restructuring" as "farming is no longer possible without irrigation amid changing climatic conditions".
Hungary's Drought Emergency Operative Body meanwhile fast-tracked insurance procedures to compensate farmers, set up a moratorium for agricultural businesses' debts, and earmarked HUF 3bn (EUR 7.25mn) for fodder for animal farmers and HUF 1.4bn (EUR 3.38mn) to help farmers pay energy bills.
EC commissioner Gabriel added that "climate change is undoubtedly more noticeable every year; the EC and its scientists are working tirelessly to map and study this crisis with the best technology available, from the space and on the ground, and are leading the efforts to protect our environment and our citizens from emergencies."