Putin strikes at opportune moment
Reading Time:
3
minutes
Though united in their commitment to European and NATO positions on the Russian invasion of Ukraine, Central and Eastern European (CEE) countries differ on their potential exposure to Russian gas supplies – a CET analysis.
At time of writing, the Russian army is intruding into the heart of Kyiv and residents are sheltering from bombs in the city's underground stations, while European Union member states are standing behind Ukraine – and against Russia. While some bloc members, such as Poland, Belgium and Slovenia, support the exclusion of Russia from the SWIFT banking system and energy sanctions, others, including Germany and Finland, oppose these. The bloc's decision to refrain from sanctioning the energy sector was justified as securing supplies to EU countries.
The respective standpoints of CEE countries are at least partially informed by their exposure to Russian gas imports. Wholesale gas prices climbed to an all-time high, on news that Russia had begun an invasion of Ukraine: from 70 euros per megawatt hour a few days ago to around 120 euros. Analysts now expect this price level for the long run, which could wreak a devastating effect on already soaring European industry and retail energy prices.
Poland, one of the EU member states that is welcoming US troops, still has a high exposure to Russian gas, despite recent moves to decrease this. State-owned natural gas company PGNiG announced in 2020 that it would not renew its gas supply deal with Russia due to expire this year. Despite a deal concluded earlier with Qatar Petroleum to increase liquefied natural gas (LNG) imports, Poland still procures 40% of its natural gas consumption from Russia, according to current data.
Romania also enthusiastically welcomed the arrival of US troops on its soil. With a determined and consistent energy policy, Romania has slashed the share of Russian gas to 10%.
By way of contrast, Hungary which has so far refused additional NATO troops, acquires around 45% of its natural gas from Russia. The country purchases an annual 10 billion cubic metres of natural gas each year, around 6 billion of which is used by industry to some 4 billion by households. Hungary concluded a 15-year gas deal with Russia last September on the supply of 4.5 billion cubic metres of natural gas annually. An additional 1 billion cubic metres was agreed upon when Hungarian Prime Minister Viktor Orban met Russian President Vladimir Putin in Moscow earlier this month. Hungary has also contracted to 1 billion cubic metres of LNG on international markets via Croatia, and can rely on a relatively high supply of domestic natural gas, of around 2 billion cubic metres.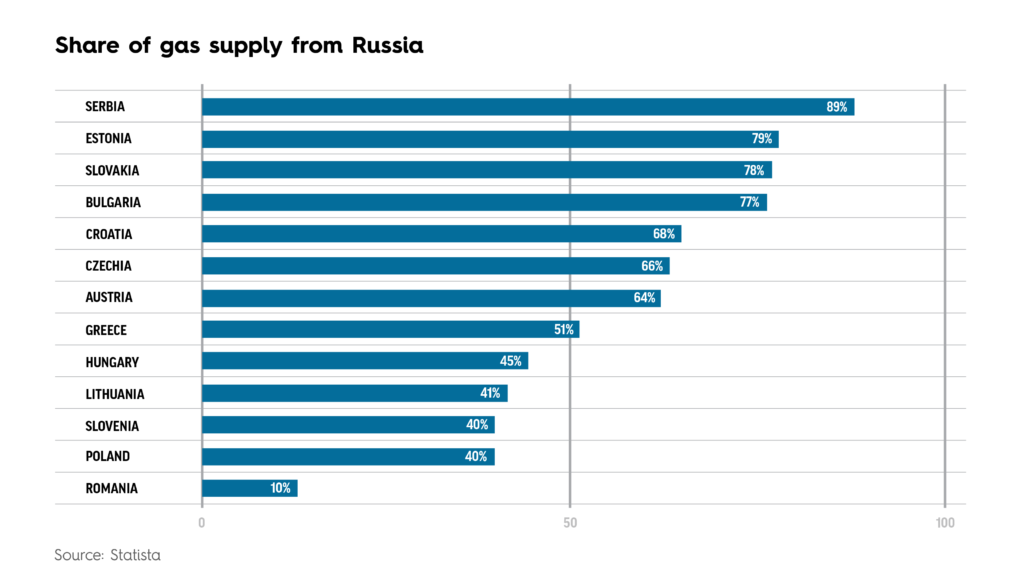 According to a comprehensive analysis presented by Moody's Investor Service on Wednesday, Slovakia, Czechia and Hungary are exposed CEE countries as regards trade and energy links with Russia. Nonetheless it remains unlikely that Russian energy supply to those countries would cease in an armed conflict, Moody's said, adding that the most vulnerable countries are the three Baltic states, in terms of energy, trade and security.
Czechia consumes around 8.7 billion cubic metres of natural gas per year, most of which comes from Russia via Germany. To ease this dependency, the Czech government has endeavoured to access LNG terminals in some neighbouring countries, most notably Germany and Poland. However, even if this is feasible, putting the plan into practice would be time-consuming. Even in a best case scenario, Europe's LNG terminals could only serve one-quarter of the continent's overall gas consumption. Slovakia meanwhile imports 78% of its natural gas from Russia and – like Czechia and Hungary – has no direct access to LNG terminals.
In spite of their dependency on Russian gas, European countries have remained firm: Czech Foreign Minister Jan Lipavsky even described the situation as a good opportunity for Europe to look for alternatives of Russian gas, saying: "I'd like to say Vladimir Putin gave Europe a great Christmas gift because he showed that we are not dependent on Russian gas."
As a matter of fact, the conflict has already caused a widespread stock market turmoil, injecting further uncertainty into a global economy already off-kilter. Inflation in the US was up 7.5% in the 12 months up to January – a 40-year high – and will undoubtedly rise in the coming months. It is impossible to predict the outcome of Russia's invasion of Ukraine, but one thing is sure: with Europe weakened by the pandemic and soaring energy prices, Putin chose an opportune moment to strike.