CEE region outperforms expectations in e-culture index
Reading Time:
3
minutes
Central and Eastern Europe (CEE) countries are over-achievers regarding 'digital quality of life', according to the latest Digital Quality of Life (DQL) index. A strong e-culture generally correlates closely with GDP per capita, but 9 of the 21 global exceptions to this rule were in Eastern Europe in 2020: Bulgaria, Croatia, Hungary, Latvia, Poland, Moldova, Romania, Serbia and Ukraine.
The third, annual DQL assessed the level of a country's e-culture in five categories in 2020: internet affordability, internet quality, e-infrastructure, e-government and digital security. Previous winner Denmark was again found to be the best country for digital quality of life. Other high-ranking European countries included Finland in third place, France seventh, Switzerland eighth, Germany ninth, and the UK tenth. South Korea, Israel, the US and Singapore also made the top ten.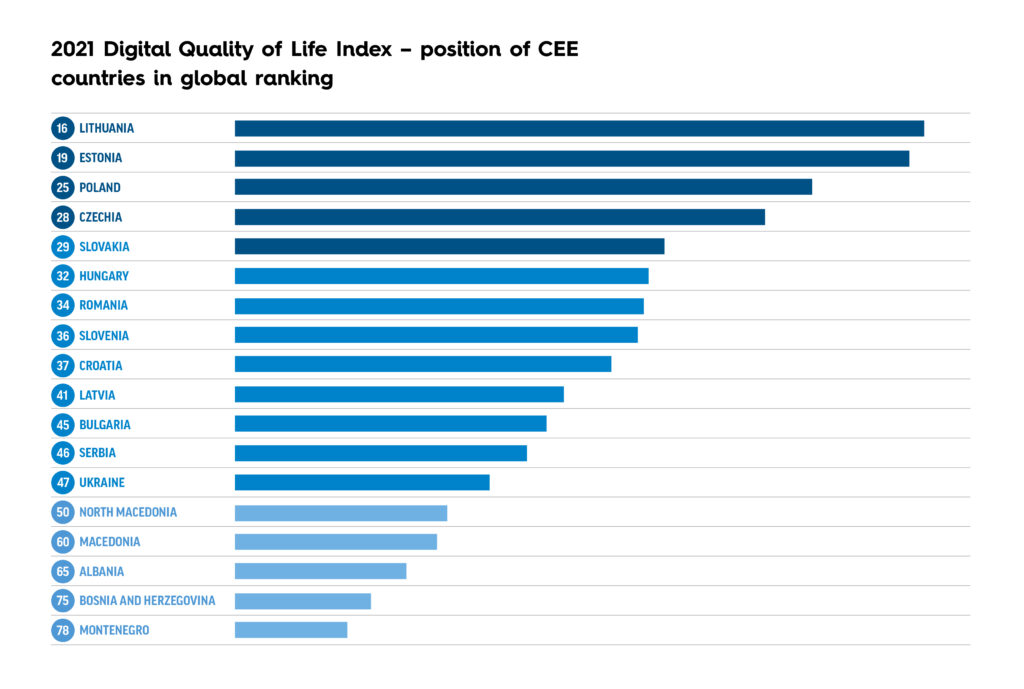 CEE countries were a mixed bag in terms of digital progress in 2020. Poland tumbled 15 positions overall, ending the year in 25th place globally and 16th in Europe. Hungary fared only slightly better, falling 7 positions, to 32rd globally and 22nd in Europe. Neighbouring Slovenia meanwhile dropped 13 positions on the index, to 36rd globally and 24th in Europe. Czechia climbed 4 positions to the 28th globally and 19th in Europe, while Slovakia was 29th globally and 20th in Europe. Bulgaria was among the last in the European league on the 29th position (45th globally). Romania was 34rd globally and jumped 5 spots to 23rd in Europe.

Europe's internet speeds lag
No EU country made the top five for broadband quality, which was won by South Korea, with Luxembourg was in sixth place, Norway eighth and Denmark ninth. The only CEE country in the top 20 was Romania, ranked 18th. Globally speaking, people paid 11 per cents more for broadband access in 2020 year-on-year. Denmark had Europe's cheapest broadband, followed by Finland in fourth place globally, Lithuania (fifth), Germany (eighth) and France (ninth).
Strong on e-security, e-infrastructure
CEE countries performed best in the digital security category, where Czechia and Estonia were just behind winner Greece, the DQL found. North and Western Europe, the US and South Korea have the best electronic infrastructure, with the Baltic countries close behind, as Estonia ranked 14th, Lithuania 26th and Latvia 34th. Czechia led the Visegrad Four countries, in 27th place, with Hungary 32nd, Slovenia 37th, and Poland 43rd for e-infrastructure. In the West Balkans, Slovenia was 33rd and Croatia 36th.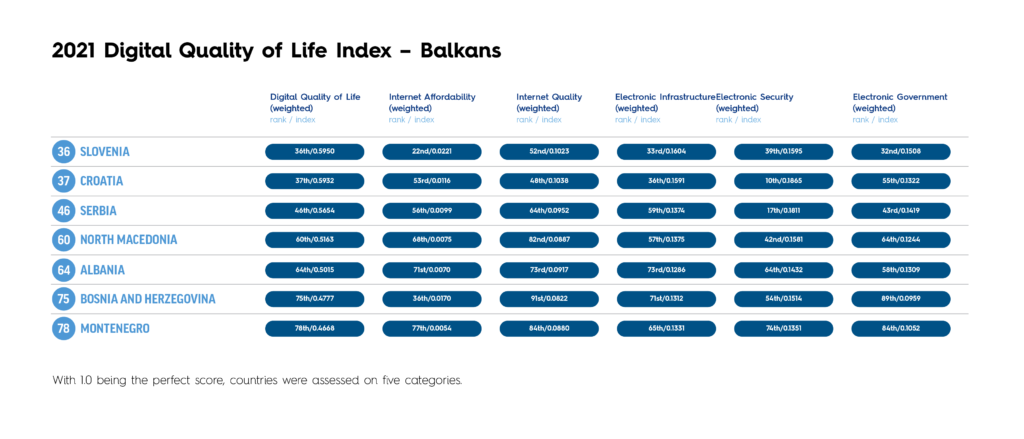 The Baltics: digital reputation meets reality
The Baltic countries, particularly 'e-Estonia' are often cited as exemplary for their quality of digital life. The DQL put Lithuania 16th in the world, Estonia 19th and Latvia 41st in 2020. Lithuania offers very affordable internet and electronic security and has above average electronic infrastructure and e-government services, as well as average internet quality. Estonia scored as below average for internet affordability and quality, but excelled in electronic security, e-government and electronic infrastructure. Latvia was deemed an "average DQL country" with all its rankings between 20th and 60th globally.

The Visegrad Four member countries – Poland, Hungary, Czechia and Slovakia – were all ranked from 25th to 32nd in the global ranking, with the only exceptional score being Czechia in the e-security category.

To dig deeper into the DQL results, check the annual report.