US moves into CEE arms market – CET analysis
Reading Time:
12
minutes
Geopolitics is leaving its mark on the arms race in Central and Eastern Europe (CEE). Countries are drifting further away from the concept of a united European armed force amid shifting geopolitical realities, mistrust and the revival of long-standing historical alliances.
The rearmament of Europe lurched back onto the global agenda in 2018, thanks to US President Donald Trump urging European NATO members to raise their defence spending to 4% of their GDP, doubling the 2% recommendation.
At that time the only NATO members meeting the defence alliance's 2% of GDP spending target were Greece, the US, the UK, Poland, Estonia and Latvia. Since Russia's invasion of Ukraine on 24 February 2022, countries that previously ignored NATO defence spending obligations have entered an arms race, positioning themselves in the new geopolitical reality now taking shape.
According to NATO estimates, of the defence alliance's total USD 1.19tn expenditure in 2022, USD 821.83bn was spent by the US, to France's USD 55.94bn and Germany's USD 62.73bn.
In CEE, Poland spent USD 17.81bn on defence in 2022, Romania USD 6.01bn, Czechia USD 4.04bn, Hungary USD 3.05bn, Slovakia USD 2.42bn, Lithuania USD 1.69bn, Croatia USD 1.4bn, Latvia USD 909mn, Estonia USD 869mn, Slovenia USD 788mn, North Macedonia USD 247mn and Montenegro USD 107mn.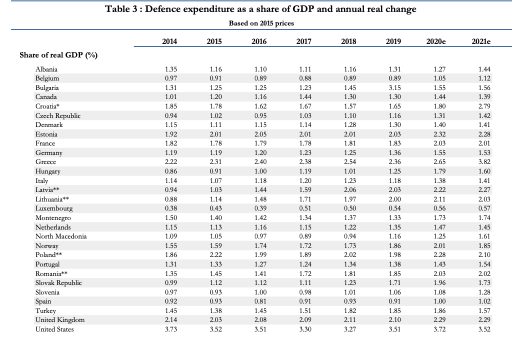 Can emerging blocs overcome deeper geopolitical, cultural links?
Globalism as we have known it in recent decades is falling apart: supply chains were seriously damaged during the pandemic, China is turning inward and becoming hostile to its greatest trading partner the US, which in turn is well aware and anxious regarding its weakening position in East Asia and worldwide. With the war in Ukraine, new global blocs are being formed and even a new cold war could emerge with the US and pro-Western countries on one side, and China and non-Western-aligned countries on the other.
More than any political rhetoric, arms procurement policies lay bare countries' loyalties and the dilemmas. Poland has definitively sided with the US by purchasing US weapons in large quantities, and fiercely supporting Ukraine hoping to win political protection against Brussels, and especially Berlin, from which it is now demanding USD 1.3tn in WWII reparations.
Hungary, on the other hand, is building cooperation with German, Israeli and Czech arms manufacturers, while also making eyes at Turkish suppliers. Romania managed to maintain cooperation with its old ally France even during the Cold War, while it now relies increasingly on US support. Czechia, Slovakia, Estonia, Latvia and Lithuania have lined up firmly behind Ukraine, and are receiving US financial support to renew their military with US equipment.
Greece is also dependent on US support and weapons against a NATO ally: its stubborn antagonist Turkey. However the war in Ukraine has taken Orthodox Greece and Serbia into delicate territory. Political maverick Turkey is now expecting new and upgraded F-16 fighter jets from Washington, yet the Biden administration may face resistance to the arms deal in the US Senate.
To finance the huge military investment in CEE, the US Congress approved USD 288.6 mn for Poland from the Foreign Military Financing (FMF) package as soon as it was adopted, in September 2022, making the country one of the largest recipients of such aid aside from Ukraine.
The FMF aims to bolster the security of Ukraine and 18 of its neighbours with over USD 2bn. Around half of that will go to Ukraine, the rest will be distributed among Albania, Bosnia and Herzegovina, Bulgaria, Croatia, Czechia, Estonia, Greece, Georgia, Kosovo, Latvia, Lithuania, Moldova, Montenegro, Romania, Slovakia and Slovenia. Only Hungary and Serbia have been left out, most probably due to their closer relations with Russia.
The current wave of HIMARS (M142 High Mobility Artillery Rocket Systems) procurements in the region also shed light of geopolitical considerations: while almost all CEE countries have already secured various quantities of this multi rocket launcher system (MLRS), Hungary is still hesitant about which MLRS to buy: whether US, Turkish or Israeli. Recent news suggests Hungary will eventually opt for HIMARS. Poland originally intended to procure 500 of them, although due to long delivery times, it is now considering buying more South Korean Chunmoo launchers. Romania has meanwhile secured 54 HIMARS, Estonia has contracted to purchase 6, Lithuania has ordered 8, and Latvia plans to buy an undisclosed number of launchers from the US.
Poland: siding with US, turning its back on Germany
Poland is surely a frontrunner in the recent arms race, which many already regard as the new military superpower of Europe. However, the big Polish army exists only on paper yet and there are considerable doubts about the feasibility of the plan.
It is undeniable though that Warsaw pledged to increase its defence spending to 5% of its GDP last February, which is way above the 2% required by NATO. The Polish government has struck massive arms deals with the US and South Korea.
The deal with South-Korea alone amounts to 14.5 billion dollars facilitating the procurement of 980 K2 Black Panther tanks, 650 K9 Thunder self-propelled guns and 48 FA-50 light combat aircrafts. Even South-Korea coping with a massive threat from North-Korea has only 260 K2 Black Panther tanks.
Poland is rumoured to have more operating Leopard 2 tanks than Germany does as it keeps 250 of them in service currently. An additional 350 M1 Abrams are coming to replace the T-72 and PT-91 tanks Poland handed over to Ukraine. By the time the ongoing defence development program will have been completed around the end of this decade and the beginning of the next one, Poland will have a total number of 1200 tanks, more than all the other member states of the EU combined!
Poland has given all of its Soviet-era helicopters to Ukraine, and will replace them with 96 (!) US AH-64 Apache and 32 Augusta transport AW149 helicopters to be manufactured in Poland. While Poland has handed over many of its MiG-29 fighters to Ukraine, it has ordered 32 F35-A 5th generation fighter bombers from the US – to complete its light combat FA-50 Eagles fleet.
To protect its domestic airspace, Poland is in the process of deploying the Raytheon Patriot system it purchased from the US. Poland signed a letter of offer and acceptance with the US government to buy two of this highly expensive defence missile system in March 2018. These units have not yet been delivered, despite their due delivery date at the end of 2022. Last May, Poland expressed its intention to buy six more batteries (three divisions) of Patriots with related gear.
For the period until Patriots arrive, the German Defence Ministry last November offered to lend two Patriot batteries to ease the missile scare following the deaths of two Polish civilians struck by errant missiles crossing into Polish territory. The PiS-led Polish government first welcomed the offering, but u-turned shortly after and refused it, saying Germany should have offered it to Ukraine rather than Poland.
This move was interpreted by many political observers as an attempt by PiS party to stir anti-German sentiments before the upcoming elections in Poland, expected in the autumn. Nonetheless, the Polish Defence Ministry eventually accepted the German offer in December, after receiving criticism for risking the country's security at a time of war in neighbouring Ukraine. The batteries could arrive at any time in the coming days.
Nonetheless, we are yet to see if Poland could really implement the enormous armament programme it has undertaken. It is not even certain Poland can afford it: the country's 5% GDP commitment is only comparable to that of Israel and Saudi Arabia. Such a huge military budget has an adverse effect on a national economy, therefore nearly all of Poland's opposition parties do not back the 5% target, but would support 3%.
The opposition has pledged to review all military contracts if they win power in the 2023 elections. There are even rumours that the PiS government would row back after the elections, if it retains power.
And even if it did not, questions would still arise if there were enough able-bodied people in Poland to serve in such a big army. As Chief of General Staff, General Rajmund Andrzejczak put it in a lecture he gave last November: "There simply may not be that many [Polish] warriors."
Slovakia, Czechia: harmonising steps, lining up with the US
Like Poland, Slovakia also handed over its Mig-29 fighter and Mi-8/17 helicopters fleet to Ukraine, and as a result Czechia is now patrolling its air space. Slovakia will replace the withdrawn aircrafts with the most modern version of the fourth-generation fighter F-16 (V Block 70/72), expected to be delivered in 2024 or 2025. This combat squadron of 14 aircraft will be supplemented with L-39 light combat aircrafts.
Slovakia's decision on replacing Soviet-era helicopters with UH-60 Blackhawks was made back in 2015 and the country now owns nine of the US-made choppers. In June 2021, Slovakia ordered two additional Black Hawks, along with 3D locators from Israel. The related contract will be paid partially by the US government through the FMF, subject to certain conditions, for example, Slovakia purchasing additional products from US companies.
Slovakia has signed an agreement with Finland on the purchase of 76 Patria AMVXP combat armoured vehicles to be delivered from 2023-27. Last June, the Slovak government also approved the procurement of152 CV90 MkIV tracked-armoured vehicles from Sweden, rejecting a Hungarian offer of LYNX KF41 vehicles, and a Spanish offer of its ASCODs.
Other than those, Slovakia has a relatively large number of armoured combat vehicles in reserve and, like Hungary, is replacing AK-47 guns with Czech CZ Bren 805.
Czechia will spend 1.5% of its GDP on defence in 2023, a slight increase on 1.3% last year. The government is endeavouring to hike its spending to 2% of GDP by 2025 at the latest.
The country launched a large-scale military modernisation programme in 2018 to replace a decisive share of its Soviet-era gear. Prague determined, by 2027, to acquire 210 infantry fighting vehicles, 50 self-propelled howitzers, 12 multipurpose helicopters, 2 transport aircraft, and short-range air defence systems and combat drones, among other materiel.
Last December, following Slovakia's decision in June, the Czech Defence Ministry also opted for the Swedish supplier and signed a memorandum of understanding with the BAE Systems regarding the purchase of 210 CV90 infantry fighting vehicles.
In April 2022, Czech Defence Minister Jana Cernochova expressed willingness to receive more US troops on Czech soil in an interview she gave before a visit to her US counterpart Lloyd Austin. They then signed a Defence Cooperation Agreement, and Cernochova announced that Czechia would buy more US helicopters, additionally to the 12 previously ordered.
In August, the US decided to gift Czechia 8 Bell military helicopters, as a recognition of the country's aid to Ukraine. "It is being shown that our clear and unwavering stance since the start of the Russian invasion of Ukraine is paying off," Jana Cernochova said. The transfer means Czechia will have ten AH-1Z Viper attack and ten UH-1Y Venom utility helicopters.
Romania: preserving traditional ties with France while relying increasingly on US
Romania made the news recently when an entire US airborne division of 4,000 troops was deployed to Mihail Kogalniceanu Air Base, near Konstanca, a port city in eastern Romania, close to the Crimean Peninsula. According to the New York Times, this was the first time that a whole US division had been deployed to Europe since WWII. The US daily noted that the air base in Romania is a seven-minute rocket flight away from Crimea.
Romania's cooperation with the US army is in stark contrast with that of Hungary, which last February turned down a US offer to increase its military presence in the country.
While building relationships with the US, Romania is also relying on its traditional ally France. This is evident from the fact that Romania's cooperation with Aerospatiale Matra, which after a merger in 2000 is now part of Airbus, dates back to the 1970's. It covered the production of two types of helicopters in licence: Alouette III and Puma. There are currently 20 of the former, 36 transport and 22 combat versions of the latter in service. A most recent commitment to its old ally came in the form of a deal signed last July for the purchase of French Scorpene submarines.
The core of Romanian Land Forces today consists of 150 modernised T-55 TR-85/77-850 Zizul, around 20 2Sz1 Gvozgyika, and Israeli ATMOS 2000 truck-mounted artillery units, as well as around 100 modernised BM-21 rocket launchers (APR-40). In addition, it has over 200 TR-85 and 54 TR-85M1 tanks in service – which is Romania's self-developed third generation battle tank based on the T-55 platform – and over 150 T-55 tanks, and an unknown amount, but probably hundreds of towed 152-millimetre artillery guns in reserve.
According to a government decree of December last year, the Romanian government had allocated a huge budget to buy 1,059 tactical armoured fighting vehicles, of 9 different kinds, over several years. At least some of the components of the vehicles must be manufactured and maintained in Romania, according to the announcement.
The Romanian skies are protected by 28 Mig-21 LanceR jets, renewed with Israeli assistance, although these are currently being replaced between 2022 and 2024 by 32 used F-16 A/B Fighting Falcons from Norway and 17 from Portugal. This is completed with a squadron of IAR-99 light trainer and combat aircraft also designed and manufactured by Romania, although with British engines. Besides various Soviet era or licensed, locally manufactured devices, the Romanian air force also operates 7 Patriot batteries and decommissioned German Gepard self-propelled guns of the Bundeswehr, as well as radar-guided 35-millimetre machine guns of the same type.
Hungary strengthens ties with Germany and Israel to build modern defence industry
Hungary has pledged to gradually increase defence spending to 2% of GDP that it will fulfil in 2023. The Hungarian military reform known as Zrinyi 2026 was launched in 2017. It aims to replace obsolete equipment and lay the foundations of a Hungarian defence industry and innovation to create a modern, digitised Hungarian army.
The Hungarian government prioritises linking procurements with long-term cooperation on innovation and manufacture. As the programme is now being refined in light of the war in Ukraine, Hungary is now considering buying HIMARS from the US and drones from Turkey.
Hungary was the first country to use Lynx, a highly advanced armoured fighting vehicle designed by the German Rheinmetall. The first of this model arrived in Hungary in 2022 and a total of 46 will be delivered in 2023. However, a manufacturing site in Zalaegerszeg is planned to be inaugurated this year, where an additional 172 will be produced until 2029. The Zalaegerszeg site will also host Europe's largest and one of the world's most modern vehicle industry test tracks.
Rheinmetall is becoming a key partner for Hungary (and vice versa) as it erects another manufacturing site in Varpalota, western Hungary, where 30mm calibre ammunition will be produced for Rheinmetall's Lynx from 2024. Rheinmetall, which has accumulated five years' worth of chips and significantly increased its stock of semiconductors and electronic components, last May established a defence industry joint venture with the Hungarian government-linked IT company 4iG and the HM Electronics, Logistics and Asset Management company belonging to the Hungarian Defence Ministry.
The joint venture began operations last year, developing digital combat land and air simulation systems, as well as equipment based on C4ISTAR (command, control, communications, computers, information/intelligence, surveillance, targeting acquisition and reconnaissance) capabilities. The company not only supplies the Hungarian Army, but also other NATO countries in CEE.
The Hungarian Army will be provided with modern handguns by another factory soon to be built in Hungary, established by a joint company of the Hungarian state-owned N7 Holding and the Czech Colt CZ Group. The project is based on a technology transfer agreement concluded between the Hungarian government and the Czech Colt CZ Group in 2018.
Hungary's army currently keeps 12 Leopard 2A4 in service, and will deploy a further 44 of the most modern versions of this tank, 2A7+ this year. The country has also procured Leguan 2 bridge-launching tank sets and Wisent tank tractors with related equipment. Due to the special relations Hungary has forged with Israel over the last decade, an Israeli company, Rafael, is supplying the Hungarian Army with Spike guided anti-tank missiles.
The Hungarian Air Force has used 14 Saab Jas 39 Gripen jet fighters since 2006. Hungary is counting on this plane long term: existing Gripens are being modernised and purchases of new ones are planned in the near future. Besides, Hungary owns 8 Mi-24P/V Russian made, renewed helicopters the maintenance of which has become uncertain or impossible since the tightening of sanctions against Russia and its invasion of Ukraine.
Hungary ordered in 2018 – and received in 2021 – a total of 20 H145 M Airbus multifunction light transport helicopters, and is expected to receive 16 H225 M long-range tactical transport military helicopters from 2023-25 replacing the obsolete Mi-8 and Mi-17 models.
A new Airbus helicopter factory was inaugurated last July in Gyula, east Hungary, where precision steel and titanium components for the kite structure and dynamic systems of Airbus helicopters are manufactured, as are some of the door panels. The Gyula plant is currently the sole supplier of these parts for the whole Airbus family.
As far as ground-based air defence is concerned, modernised French Mistral short-range missiles have already been installed in Hungary, and the medium-range NASAMS air defence missile system of US-Norwegian design will soon take over the task of the existing, Russian-made Kubs. This is the same NASAMS that has proved particularly efficient in Ukraine. In addition to these, Hungary has signed a memorandum of understanding with Rheinmetall regarding the purchase of Skyranger self-propelled machine guns, which provide air defence for troops.
Airspace defence has been completed by the deployment of 11 Israeli ELTA radars (ELM-2084), the same model that serves in Israel's advanced air defence system the Iron Dome. The acquisition took place based on an agreement cut between the Hungarian Army and Rheinmetall Canada in 2020. Again, certain components of the system will be developed and produced, and the device will be fully assembled in Nyirtelek, east Hungary.
The real "brain" of Hungarian air defence is the container version of the SAMOC Air Defence Missile Operations Center, developed by Airbus, which has recently arrived and been deployed. The new system is compatible with both existing and new air defence devices.
What makes the Hungarian defence development programme somewhat unique in the region is that it has eschewed US support and cooperation.
The US has driven Germany, France out of CEE arms market
The war in Ukraine has led to polarisation within Europe and NATO. Poland, the Baltic countries, Czechia, Slovakia – and likely the new NATO members Finland and Sweden – have lined up behind Ukraine and the US sending most of their military equipment to the country and now receiving financial support – though not unconditional – from the US to rebuild their army with US weapons.
The US has thus almost completely driven out Germany and France from the CEE arms market. These two countries also back Ukraine but with somewhat less enthusiasm and more reservations than the countries listed above, probably because they see their influence weakening in the region, to the benefit of the US.
Poland, a rising CEE power ordered equipment from the US and South Korea purposefully, not even by chance from Germany, as tensions are mounting between the two countries, as well as Poland's other NATO allies.
Much in line with its maverick foreign policy, Hungary completely lacks US support and is committed to cooperation mainly with Germany in matters of defence. Hungary even intended to export weapons manufactured in Hungary in cooperation with Rheinmetall to other NATO countries, but the war and geopolitics seemed to have frustrated those plans.
Though mistrust and old reflexes rooted in history may have also played a role in turning down Hungary's bid in Slovakia. The liberal DennikN warned at the time that the Heger cabinet would have needed much courage to drop preconceptions and trust Hungary with the production and maintenance of weapons crucial to Slovakia's security.