As CEE energy costs soar, IMF says customers should pick up the bill
Reading Time:
4
minutes
The International Monetary Fund (IMF) has recommended that European governments let consumers bear the brunt of rocketing domestic energy bills, in part to encourage power saving.
In the wake of Russia's invasion of Ukraine, energy consumer prices are rising 40% year-on-year in the euro zone, drastically reducing disposable incomes, with poorer households particularly hard-hit.
"Soaring energy prices have sharply increased living costs for Europeans. Since early last year, global oil prices doubled, coal prices nearly quadrupled and European natural gas prices increased almost seven-fold," IMF Europe experts Oya Celasun, Dora Iakova and Ian Parry wrote in a blog in response to the IMF working paper.
"Governments cannot prevent the loss in real national income arising from the terms-of-trade shock. They should allow the full increase in fuels costs to pass to end-users to encourage energy saving and switching out of fossil fuels," the experts added.
Poorest households in Europe's poorest countries worst hit
Domestic bill payers in Central and Eastern Europe (CEE) are feeling the pinch even more than their Western neighbours, as energy price rises as a contribution to Consumer Price Inflation (CPI) show.
The Baltic countries, Estonia, Lithuania, and Latvia, have been the worst hit in the CEE region, and by the end of May had seen energy prices contribute to over 15% to their annual-rate CPI inflation.
Estonia also had the largest disparity in relative costs between the richest 20% and poorest 20% of its households, as living costs for the first quintile in the Baltic country are expected to rise by around double those of the fifth quintile.
According to the IMF's top ten countries for energy-related inflation in Europe, all of which are in CEE, consumers in Czechia have seen the fourth highest rises, ahead of Bulgaria in fifth.
Poland was sixth, followed by Romania, Slovakia, Hungary and Croatia in tenth place. Hungary, which initially imposed strict price controls, regardless saw huge rises in CPI up till May, and is now loosening these price caps.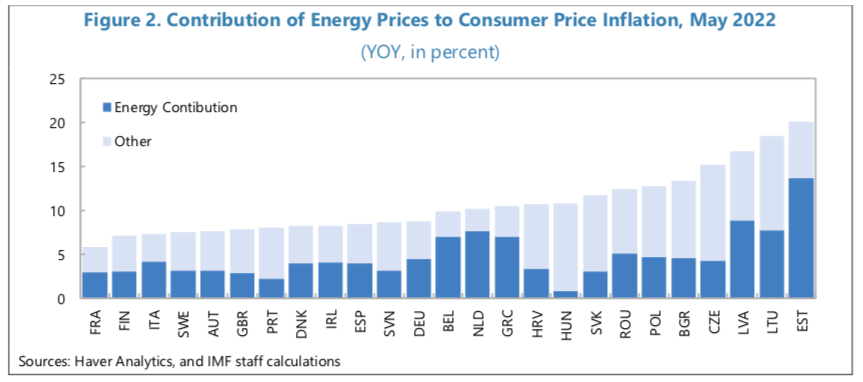 The IMF estimates that European households' cost of living in 2022 will rise by almost 7%. Domestic burdens vary significantly but policymakers have mainly responded with broad price-suppressing measures, including subsidies, tax cuts and price controls, the Europe office of the Washington-based institution wrote.
The Washington-based institution called such energy initiatives "short-sighted", while forecasting that this year they will cost some countries 1.5% GDP, while inflating demand prices. According to the IMF's calculations, offsetting this year's increases in the cost of living for the bottom 20% of households would cost only 0.4% of GDP, and 0.9% for the bottom 40%.
The IMF also argues that policies cushioning consumers from rising costs will not only harm European economies but also deter the continent's transition to green energy. Noting that fossil fuels are likely to remain expensive for some time, the IMF recommends that broad-based measures should shift to government relief programmes targeted at the most vulnerable households.
"Governments cannot prevent the loss in real national income arising from the terms-of-trade shock. They should allow the full increase in fuels costs to pass to end-users to encourage energy saving and switching out of fossil fuels," IMF Europe explained.
"Suppressing the pass-through to retail prices simply delays the needed adjustment to the energy shock by reducing incentives for households and businesses to conserve energy and enhance efficiency. It keeps global energy demand and prices higher than they would otherwise be," the IMF reasoned.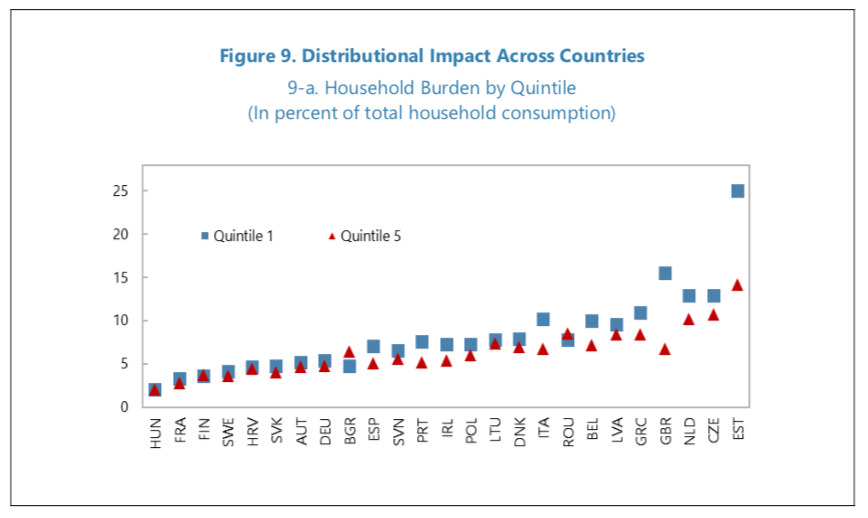 Help the most vulnerable as appropriate, says IMF
The IMF added that viable businesses should receive "appropriate" support in the event of shorter price surges, for instance if Russia completely cuts off gas flows to Europe. However, as prices may remain higher for several years, the case for supporting businesses is "generally weak", the IMF added.
Rising prices will spur energy conservation and renewable investment, although hikes in the cost of natural gas could mean a persistent switch to coal. When fossil fuel prices decline authorities could strengthen carbon pricing and enhance on-price incentives for green investments, as per the RePowerEU plan, the IMF wrote. 
Andrew Kenningham, an economist at London-based economics consultancy Capital Economics, told the Financial Times that European governments will likely move towards more targeted support in the coming months "simply because the costs of universal energy subsidies will become prohibitive".
Kenningham noted that the IMF has cautiously expressed support for one-time windfall taxes on producers but added that "the case is very strong where companies are making exceptional profits due to the marginal-pricing system".