Baltic countries see rocketing inflation as Eurozone hits all-time high
Reading Time:
2
minutes
Inflation was highest in Estonia amongst the Eurozone countries in May, according to a Eurostat report that estimated 20.1% year-on-year for the Baltic country. Inflation climbed from 11.6% in Estonia in February, up from 14.8% in March and 19.1% in April.
As numbers diverged wildly across the Euro area last month, the second and third member countries regarding inflation were the other two Baltic states Lithuania (18.5%) and Latvia (16.4%), the EU's official statistics agency found.
All three of the Baltic states had suspended Russian gas purchases by early April, in the wake of the country's invasion of Ukraine on 24 February.
Overall Eurozone inflation was 8.1% year-on-year in May, up from 7.4% in April, the highest figures since data collection began in 1997. Inflation was lowest in the Euro area in Malta in May, where it was 5.6%.

Energy prices continued to have the greatest impact on inflation in the Eurozone in May, with price advances there soaring from 37.5% year-on-year in April, to 39.2% the following month.
Inflation on food, alcohol and tobacco was 7.5% in the Eurozone, non-energy industrial goods 4.2%, and services 3.5%. Elsewhere in Central and Eastern Europe (CEE), Slovakia had the fourth highest inflation of 11.8%.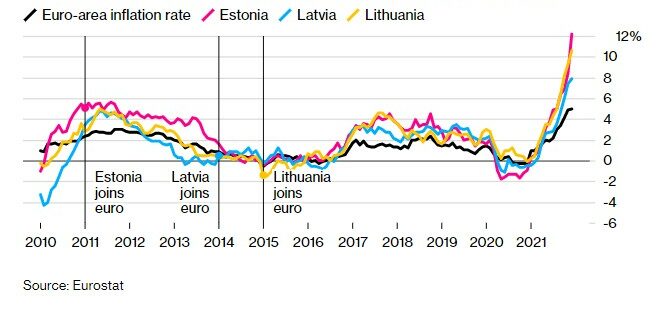 Estonia registered a two-decade high of 12.2% inflation to Lithuania's 10% in December. When Eurostat's figures were released in January, Bloomberg reported the European Central Bank's chief economist predicting that an interest-rate increase was "highly unlikely" in 2022, as forecasts suggested that inflation would slow below the ECB's 2% goal in the medium term.