The Ryanair Incident: An Overt Challenge to the EU 
Reading Time:
5
minutes
The EU was unusually unified and prompt in condemning Belarus for "hijacking" the Irish low-cost carrier Ryanair plane. The European Council has imposed new sanctions including banning Belarus's airlines from using EU airspace and airports. Yet, it is still questionable whether tougher sanctions could force Lukashenko to change his course or trigger a political turn in Belarus. On the other hand, sanctions risk pushing Belarus closer to Russia thus playing into Putin's hands.
Often accused of being too slow and indecisive, this time the European Union was very quick to strike back at Belarusian president Alexander Lukashenko for the diversion of a passenger jet to arrest a dissident journalist, Raman Pratasevich and his girlfriend, the Russian citizen Sofia Sapega. 
The incident took place on Sunday, 23 May, and the response came as early as the next day, 24 May, when European Union leaders have agreed on a set of sanctions against Belarus, including banning its airlines from using the airspace and airports of all 27 member states.  
Part of the reason for the unusually swift action was due to the fact that the EU leaders had just held their summit in Brussels on Monday. The European Council conclusions endorsed by all countries called on "all EU-based carriers to avoid overflight of Belarus" and "to ban overflight of EU airspace by Belarusian airlines and prevent access to EU airports of flights operated by such airlines." Their statement also called on the Council to "adopt additional listings of persons and entities" to be sanctioned and "further targeted economic sanctions." It also urged the International Civil Aviation Organization to start an investigation into what they viewed as an unprecedented move and what some said amounted to state terrorism or piracy. 
"We won't tolerate that one can try to play Russian roulette with the lives of innocent civilians," said EU Council chief Charles Michel, who presided over the EU meeting.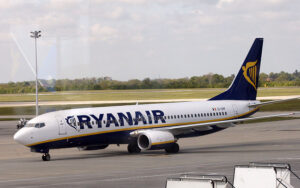 Restrictions already in place, introduced in 2004, include an arms embargo and a ban on "the export of goods linked to internal repression" as well as a travel ban of individuals associated with the government of Alexander Lukashenko and freezing of their assets.
In October 2020 those were expanded to 88 more individuals and seven organizations. The EU Council is now considering adding further individuals involved in the arrest of Pratasevich and other entities to be included in the list of those sanctioned.  
The U.K. Civil Aviation Authority swiftly suspended the permit allowing Belavia, the Belarusian national carrier to operate in the U.K. and requested airlines to avoid Belarusian airspace. Ukraine, Poland, and Latvia also cut the air link with Belarus and are banning flights via their neighbor's airspace on Tuesday. Due to the British and French ban, Belavia had to cancel all its flights to London and Paris until October.  
US President Joe Biden also condemned what he called an "outrageous incident" on Monday, while two US senators urged the administration to prohibit US airlines from entering Belarus airspace. 
The US has maintained sanctions against nine Belarusian state-owned companies and 16 individuals since 2006, tightening them in 2008, lifting them on state-owned companies in 2015, and then extending them to 24 individuals after the 2020 elections. 
On Thursday, 27 May, EU foreign ministers met in Lisbon and sketched out plans for a new round of economic sanctions against Belarus, targeting economic sectors close to its authoritarian leader, like the country's lucrative potash, oil, wood and cement industries. These new sanctions are supposed to hit the country hard, to "really hurt Belarus," as an EU official put it. However, a senior European correspondent, Bernd Riegert, observed "not all foreign ministers are sure this is the right path."  
How forceful
and effective
are the sanctions
?
According to the aircraft tracking website Flightradar24, there are around 3,300 flights flying over Belarus, and it receives income from airlines that enter its airspace of up to EUR 70,000 each day. Those losses alone of course will not be able to bring the Belarussian economy to its knees.  
According to analysts, even tougher EU sanctions would be unable to overthrow Lukashenko's regime. Belarus has a much stronger economy than say Ukraine. It ranks 65th in the world in terms of GDP per capita at USD 20,578 – Ukraine is the 86th at USD 13,943. The average Belarusian's life is much better than the average Ukrainian's. One must also take into consideration the support Belarus could receive from Russia which makes the situation more complex than the one in Ukraine. 
Politicians in the Belorussian opposition are recommending tougher sanctions targeting large, state-owned companies, paralyzing their import and export, and cutting off Belarus from the SWIFT system for cross-border payments. It is quite a serious concern for the country that many of the companies of the extremely strong Belarusian info-communications sector, which generated export revenue of USD 2.2 billion in 2019, are now considering moving out of the country due to the uncertain political situation. Rakuten, the owner of Viber, is one of them. Poland, Lithuania, and Ukraine are trying to attract them with targeted programs. Bloomberg estimates that more than 40 companies have already relocated almost 1,000 workers to Vilnius since the election alone.  
Yet, being hard on Lukashenko's regime is a great dilemma for EU leaders, who wonder if every measure that adds pressure to the Belarussian economy might drive the country closer to Russia.  
A volatile ally to Russia
Belarus has already received some help from its ally, Russia, which refused to allow two Moscow-bound jetliners to change their flight paths in order to avoid Belarus' airspace. Statements made by Russian government officials on Tuesday pointed out that Belarus had not violated any international law with Pratasevich's arrest.  
So far, Lukashenko has been very cautious not to drift too close to Moscow and maintained relative independence from Moscow in the last three decades. Moscow bought Minsk's very volatile loyalty with low oil and gas prices, cheap loans, and a nuclear power plant. Such support has contributed to a significant rise in living standards in Belarus in the last few decades, and its decline in 2014 hurt the country's economy. Indeed, Russia could no longer afford such generous support; furthermore, Putin resented that Lukashenko had not sided with Russia in its conflict with Ukraine, refused to meet him in Crimea, but attended the inauguration ceremony of Ukraine's president Poroshenko. 
Some analysts are now warning that economic sanctions may further deteriorate relationships between Belarus and Ukraine and make Belarus even more dependent on Russia. Those developments could even raise the possibility of a Russian-Belarusian merger that has been on the table for years now. Others believe that although the resultant isolation from the West was in the Kremlin's interests, Putin is well aware that boosting Russia's influence in the country would further destabilize the situation. In fact, an uncooperative ally is a much better option for the Kremlin than an unpredictable and destabilized one.