Emplocity: Automated Candidate Sourcing from Poland
Reading Time:
3
minutes
Young entrepreneurs from Poland have developed applications based on artificial intelligence and machine learning to come up with what they believe is a game-changer for the recruitment industry: Emplocity's tireless chat-bot is privy to all of a company's open positions and can communicate with candidates about their qualifications (among other things) 24/7.
An award-winning startup based in Warsaw, Poland, "Emplocity" describes itself as a solution for automated candidate sourcing for recruitment purposes. Integrated into the career section of a client's website, its "Emplobot" handles the search and selection of candidates by using a chatbot that runs through Facebook messenger, as well as simplifying and automating other practical tasks in the recruitment process.
Emplocity CEO Krzysztof Sobczak explained to Impact CEE that the application is a response to the recruitment process, in which he observed a lot of wasted time for both recruiters and candidates.
"Our objective is to transform the labor market," he said. "Our system takes over the most difficult stages of recruitment and candidates' selection, helping to meet the right decisions stripped of prejudices or cognitive errors."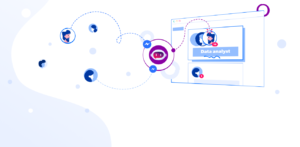 According to the company's explainer videos, Emplocity talks to candidates by messenger and asks them relevant questions to collect data – things like professional experience, languages spoken, skillset, and salary expectations – matching them up with existing job ads on the platform. Then, the recruiter using the system can seamlessly invite the best matches for an interview (by just "swiping" suitable candidates to the right).
A GDPR-compliant, SaaS-based solution, Emplocity has been available to recruiters since 2018 and its main clients are multinationals in the financial, insurance, and banking sectors, mostly in Poland, but also further afield, including MetLife, dPd, ING, Credit Agricole, and Santander.
Focus on AI and machine learning
According to Emplocity's LinkedIn page, the enterprise develops platforms "based on AI and machine learning algorithms that allow for a quick implementation of automation solutions on many levels – wherever it is crucial to understand the natural language of users, recognize their intentions, provide them with immediate 24/7 answers, recommend specific elements, as well as execute actions defined by them."
In an interview on YouTube, CEO Krzysztof Sobczak says the Emplocity system addresses high-demand recruitment scenarios and those which have a high fluctuation of candidates.
"It can engage with visitors who come to our client's website, or it can reach out to candidates on a social network, particularly Facebook because we believe it's still quite a useful and valuable source of candidates," says Mr. Sobczak, who explains that Emplocity can automatically transfer candidates from Facebook into the platform, which automatically imports all the client's job ads from their career sites, application tracking systems, or job boards.
Then, the Emplocity engine automatically matches candidates. He explains: "Our task bot engages with the job ads in the platform. The recruiter gets a short-list of the best match candidates on the platform whom he/she can invite for a face-to-face interview."
Increasing career site conversion with a tireless 'bot
According to Emplocity's research, conversion rates for career sites using the application is 2-3 times that of those who don't. Sobczak reports that conversion on career sites is 8-9% of visitors who actually apply to a job ad, while with Emplocity that grows up to 20-25%.
He adds that it can also save recruiters a significant amount of time. "It helps a recruiter with mundane and repetitive tasks, which are usually done by people – a great alternative to selection and matching. It does this 24/7 and never gets tired."
Moreover, Emplocity is able to import job listings that a company may have on other forums, websites like LinkedIn, Glassdoor, or Indeed. It also provides recruiters with analytics on candidates who have submitted their applications, like where they come from.
Aside from recruitment needs, the company's chatbots also perform communication with candidates (Emplobot Q&A) and internal communication (Intrabot).
"We believe that the key to success lies in the collaboration between humans and robots," reads the company's LinkedIn profile. "Our goal is to relieve employees from repetitive tasks, unleashing their potential and allowing them to focus on activities that bring much higher value for the company."
The companies funding came from an EU grant, an angel investor from Poland and from Polish power engineering company Enprom.
Among its achievements, Emplocity won in the "Best AI / Machine Learning Startup" category at the Central European Startup Awards final.