Drone Driven Agro-Machine Learning Helps Farmers
Reading Time:
4
minutes
A Ukrainian start-up, Horos.ai promises to help farmers maximize yield, and minimize herbicide and water use with drone technology-driven machine learning.
"We were early drone enthusiasts. A few years after meeting in 2013, we started to think about ways drone footage and data could be useful. One of the directions we were thinking about was related to farming. We heard farmers complaining about the challenge their land size held."
– Kateryna Domchenko COO and co-founder of Horos.ai told Central European Times in an interview.
Agricultural land is waste in Ukraine, a former country in the Soviet Union with a land size of 603,628 km² famous for its agro-production and supplying the whole sphere of interest with food.
Domchenko met CEO and co-founder AI technology specialized engineer Oleg Fedoshenko,  and the team was joined by industry advisor, mid-size agribusiness owner and early adopter Mykola Bondar, CTO, embedded & big data engineer Dmytro Mulkin and marketing advisor Tatyana Knyazska to form Horos.ai.
"Out of a passion for drone technology emerged the idea of how data from drone footage could be best used for industrial and agricultural purposes," Domchenko explains. The core service of their first product, AgroBI, provides plant-level insights on germination, weed and the presence of disease based on high-resolution drone imagery.
How machine learning makes fieldwork more efficient
The platform provides information on plant population and the presence of weeds based on high-precision drone imaging using its own neural networks and a data collection optimization algorithm. Agribusinesses relying on this information for in-time operations can prevent the loss of up to 60% of their fields' crop, say the founders.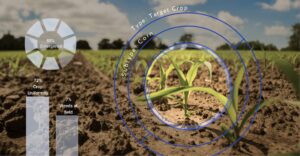 The essence of the basic service focuses on two key insights farmers need: first, are there enough seedlings on a given piece of land, and is the germination going well? And, second, how is the wheat situation? Based on timely data – two days matter a lot out in the field – AgroBI helps landowners with advice if reseeding is needed and where exactly or if and when herbicide intervention should be deployed. The data gained helps save resources, including time, fuel, herbicides, and fertilizers, while reducing effects on the environment.
AgroBI offering its solutions to large-scale farmers with machine learning, computer vision and drones is a steep learning curve for the landowners/farmers. To deliver the necessary basics to be able to use the technology, the software and actions on the fields according to timely needs, training, tailor-made introduction and installation of the system and customer support is part of the package Horos.ai offers.
Currently, the AgroBI services work for corn and sugar beet plantations based on databases from public and university data sources. These several dozen datasets include growing data, disease libraries, and other databases relevant to kickstart the neuron network serving as the backbone of the system. As a next step, Domchenko explains, this year they are introducing a service for apple growers to be followed by other vegetables and fruits.
What do others offer in drone-based technology?
Satellite imagery-based agricultural intelligence services have existed since the 1980s, but their application was costly. Nowadays, farmers worldwide use drones in various ways: some of them monitoring recorded videos, others processing pictures into a map, or rendering frame by frame imagery. Yet others analyze vegetation indices, upon which producers can get a relative idea of ​​biomass accumulation and its state within the field. 
What AgroBI teaches the network to understand what is happening in each individual field. It recognizes each plant as a unit in the image and classifies it as the main crop or weed based on a small amount of tagged data. As a result, the farmer receives a hectare-by-hectare map, which shows the visible presence of seedlings and weeds.
The founders of Horos.ai argue that their competitive advantage lies not in the method of creating a new business process for farmers, but in organically integrating it into existing operational activities.
What do competitors offer on the market?
Asked about competitors worldwide, Domchenko names two companies. For one, Israel's Taranis.ag offering a similar comprehensive solution through its AgroBrain software. Taranis though works with light aircraft high-resolution imagery and is a more costly option while its image sets are lower quality and take more time to process them – still, the company has raised USD 30 million in venture capital since 2015 and has been expanding worldwide.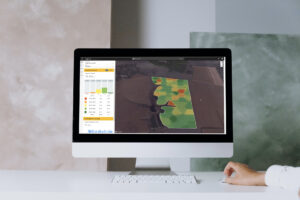 The second key company Horos.ai wants to compete with is UK based. Within their pool of services, it offers solutions to identify areas that need more or less fertilizer, fungicide, or where there are areas with a higher risk of desiccation. So far, Hummingbirdtech has achieved a market capitalization of USD 17.6 million.
Concerning the market outlooks of Horos.ai, it won the best start-up at the Euroasian Startup Awards followed by bringing home the prestigious German Agtech Pitch Awards at the Agritechnica expo in Hannover in November 2019. More recently, they conquered the Ukrainian Hub-organized startup pitch competition for projects with high technological and scientific potential followed by the signing of successful grant financing from CRDF Global. Nevertheless, Domchenko told CET they are still in permanent fundraising mode and seeking another round of investment worth EUR 300,000 for the next 12 months with aim of turning a profit from 2023 onwards with their clear monetization model.
Still, the team behind AgroBi is not stopping there, as they are currently testing their "next big thing" in a lab environment: a "farm robot" for chemical-free weed control using high-powered electric discharges instead of chemicals.