EU's highest inflation in Hungary, Baltics
Reading Time:
< 1
minutes
Annual inflation in the EU was 10% in January, according to the latest report from EU statistics office Eurostat. Of the 12 countries with inflation rates above the EU average of 10%, 11 were from Central and Eastern Europe (CEE), with the highest annual inflation rates found in Hungary (26.2%), Latvia (21.4%) and Czechia (19.1%).
Slovenia had the lowest rate in the region in January, of 9.9%, followed by Austria (11.5%), Croatia (12.5%), Romania (13.4%), Bulgaria (14.15), Slovakia (15.1%), Poland (15.9%), Lithuania (18.5%) and Estonia (18.6%).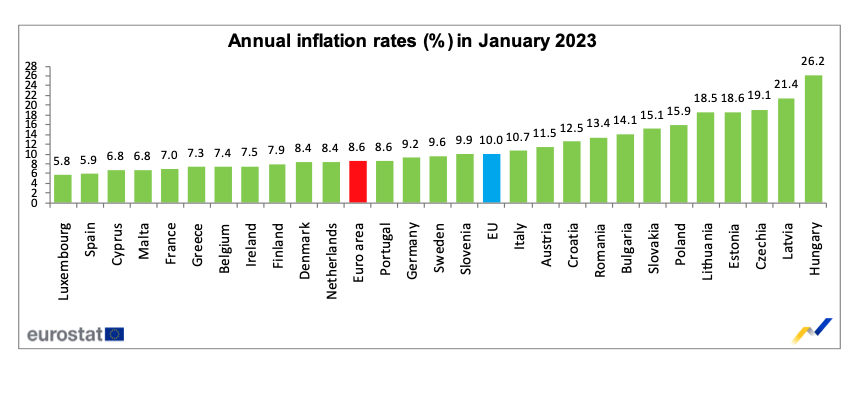 In the Eurozone, i.e. the countries that use the EU's common currency, inflation was 8.6% in January 2023, down from 9.2% in December.
The Eurozone consists of Belgium, Germany, Estonia, Ireland, Greece, Spain, France, Croatia, Italy, Cyprus, Latvia, Lithuania, Luxembourg, Malta, the Netherlands, Austria, Portugal, Slovenia, Slovakia and Finland.
The lowest annual rates in the EU in January 2023 were in Luxembourg (5.8%), Spain (5.9%), Cyprus and Malta (6.8%), Eurostat found.