Estonia tops TI's Corruption Perceptions Index in CEE, Hungary bottom
Reading Time:
2
minutes
So often the exemplar in Central and Eastern Europe (CEE), Estonia has been named the region's most transparent country in the annual Transparency International (TI) Corruption Perceptions Index (CPI), released by the NGO on Tuesday, 31 January.
In 2022, Estonia placed 14th globally, with a CPI score of 74, according to PI's methodology, where 100 is very clean and 0 is highly corrupt. Last year Austria was the second most transparent country in CEE, with a score of 71, placing it 22nd on a global ranking. Then came the two other Baltic states Lithuania (62) and Latvia (59), respectively third and fourth in CEE and, on a global basis, 33rd and 39th place respectively.
Three of the Visegrad Four (V4) countries also performed relatively well, with Czechia level with Slovenia on 56 points, in joint 41st position. Czechia led the way for the V4, ahead of Poland (55) in 45th place and Slovakia (53) in 49th. Further south, Greece (52) and Croatia (50) were judged to be the 51st and 57th most transparent countries in the world. Romania (46) remains towards the bottom on the respected NGO's index for CEE, in 63rd place globally. 
Bulgaria, Hungary still lagging
This year the lowest ranked EU member states for transparency in CEE, Bulgaria (43) and Hungary (42) swapped places. Hungary is now the most corrupt country in the EU, as it fell to 77th in the global index, one place below Burkina Faso, and five below the previously most corrupt country in CEE, Bulgaria, which came 72nd. Hungary currently has around EUR 30bn of EU cash suspended, partially due to spending allocation concerns.
Green MEP Daniel Freund, a prominent critic of Hungarian Prime Minister Viktor Orban, tweeted: "Hungary has taken a nosedive in Transparency's Corruption Index CPI. Minus 12 points since 2012 – the second year after Orban came to power. There's barely any other country on the planet where perceived corruption has increased so drastically," Freund commented.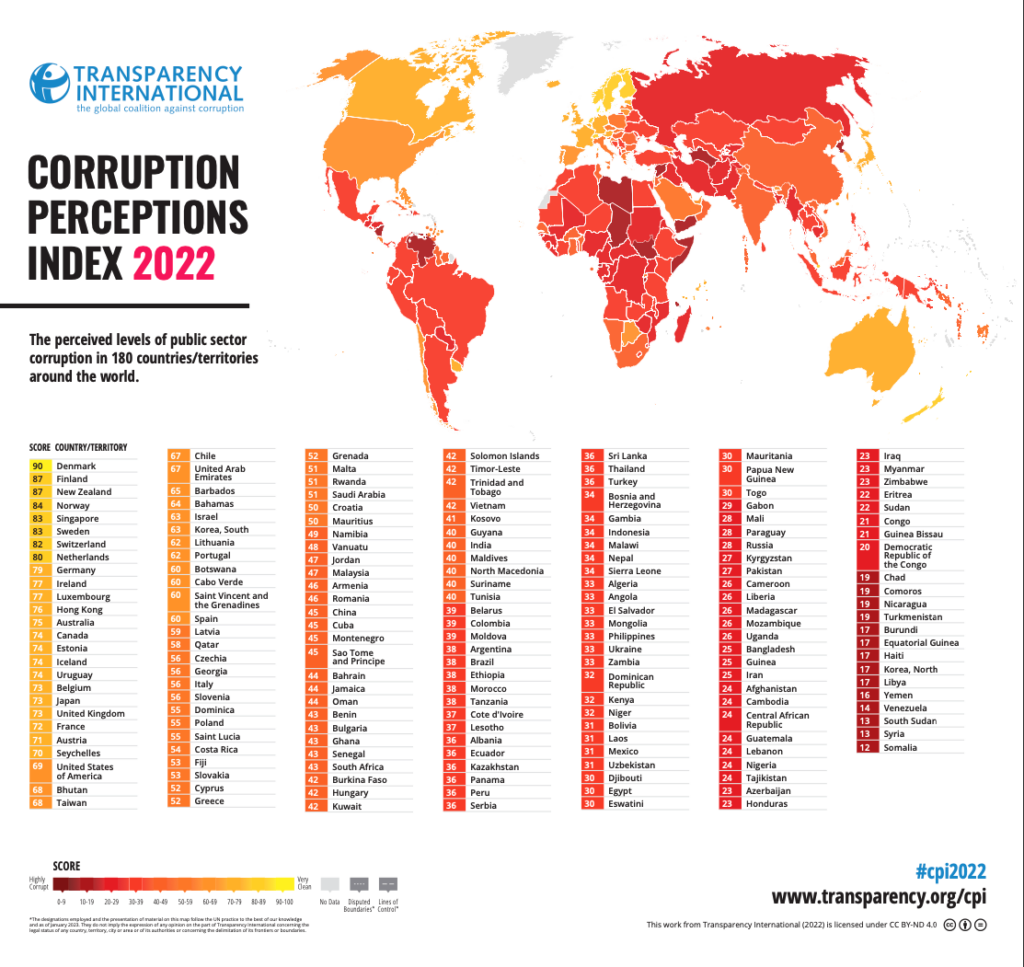 Ukraine war exposed consequences of corruption
Russia's full-scale invasion Ukraine on 24 February 2022 has shone a light on the wide-reaching effects of corruption, according to TI.
"Corruption is also a threat to global security, and countries with high CPI scores play a role in this. For decades, they have welcomed dirty money from abroad, allowing kleptocrats to increase their wealth, power and geopolitical ambitions.
"The catastrophic consequences of the advanced economies' complicity in transnational corruption became painfully clear following Russia's full-scale invasion of Ukraine," the NGO added.
Serbia receives criticism over judiciary, organised crime
EU candidate country Serbia received critical remarks from TI, which said "Serbia reached its all-time lowest score on the CPI this year (36). According to TI, Serbia "has been slow in addressing organised crime, and responsible institutions are still lacking adequate resourcing and independence.
"Serbia's judiciary is heavily influenced by political players, severely undermining progress in organised crime cases, including those pointing to high-level officials' involvement," TI added.
Denmark retained top spot in 2022, a score of 90, ahead of Finland and New Zealand on 87. The rest of the global top ten were Norway (84), Singapore (83), Sweden (83), Switzerland (82), the Netherlands (80), Germany (79), Ireland (77) and Luxembourg (77).