Venture capital investment in CEE doubled in two years – report
Reading Time:
3
minutes
Central and Eastern Europe (CEE) is one of the fastest growing regions in Europe by enterprise value and has grown by 760% since 2017, according to the latest annual report by Dealroom.co.
The Amsterdam-based startup and tech data company found three main takeaways from its research of regional venture capital investments: namely that CEE is diversifying into new sectors, has strengthened overall since the global pandemic, and offers an excellent job-creation to investment ratio.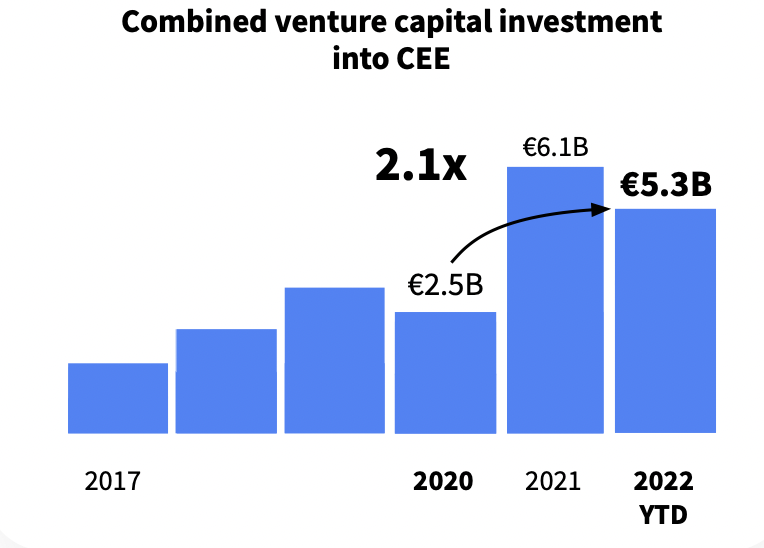 The report wrote that: "CEE has shown resilience through uncertain market conditions, adding that combined venture capital investment in CEE has doubled since 2020. The region is on track to break its yearly venture capital investment record and raise EUR 6.2bn," it added.
The report also asserts that VC funding is "a powerful job creation engine" in CEE, and leads to "far more job creation" in the region than elsewhere in Europe.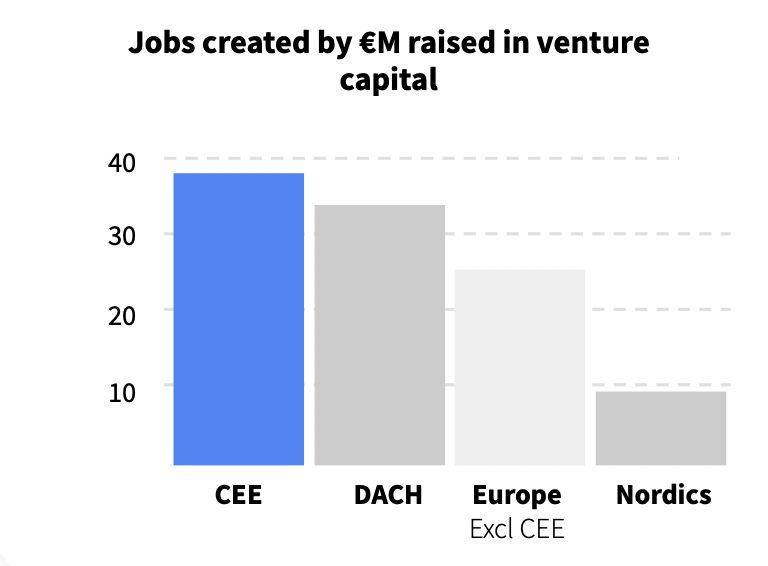 "CEE is among the most efficient creators of value in Europe," Dealroom.co wrote. "CEE startups are ranked among the highest in Europe for jobs created per euro of venture capital invested."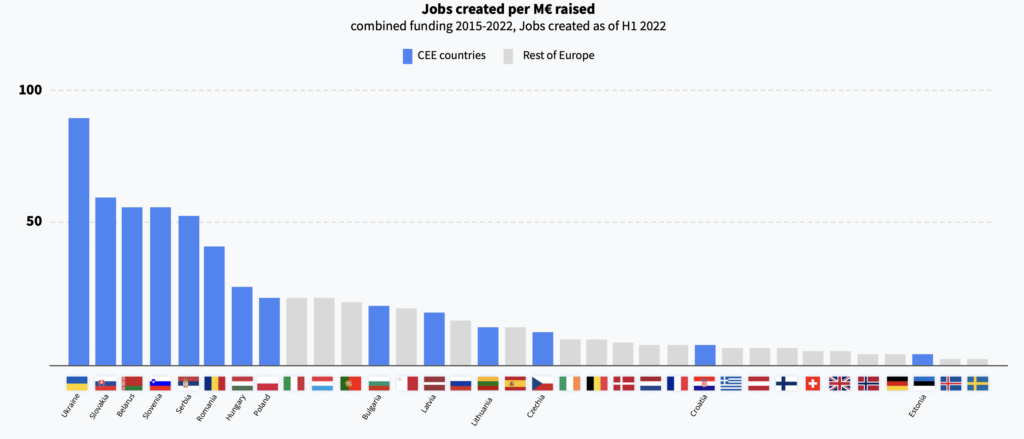 On diversification amongst VC-backed startups, Dealroom.co wrote that "CEE has made a name for itself as a pioneering region for Enterprise Software and Gaming companies." Web3 and Gaming startups are mutually-reinforcing in CEE, it added, and leverage the region's "renowned expertise".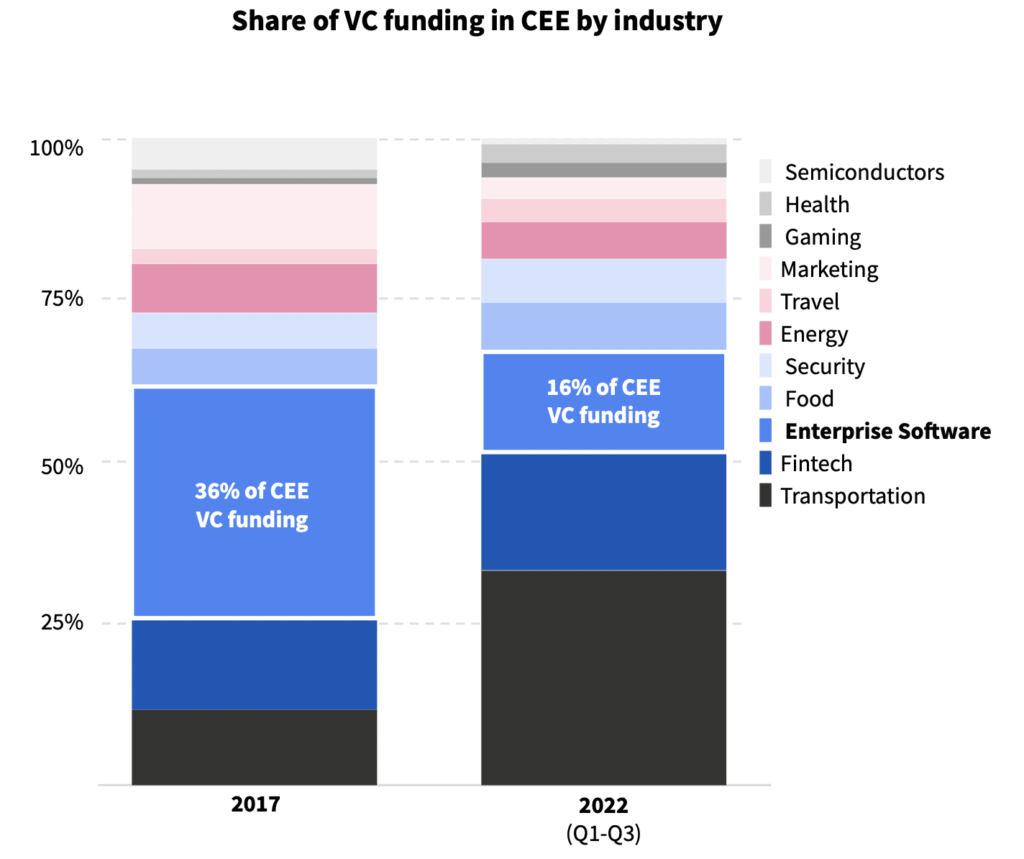 "As the startup ecosystem matures, CEE is now home to promising startups in many other segments including disruptive technologies such as Web3 and Crypto," the report said.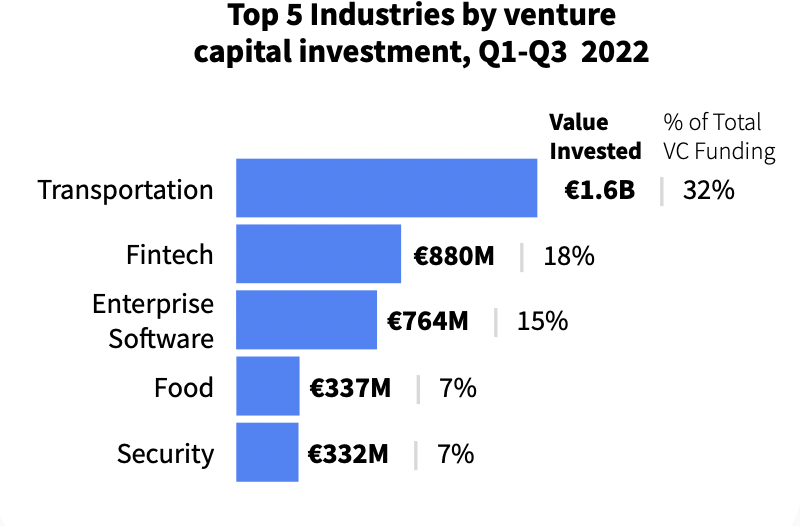 So far this year, Estonia has received the most VC funding (EUR 1.4bn) in CEE, followed by Czechia (EUR 1.1bn), Croatia (EUR 865mn) and Poland (EUR 550mn). The bottom four countries in the region for 2022 to date were all small West Balkan nations.
VC funding value by country, year-to-date 2022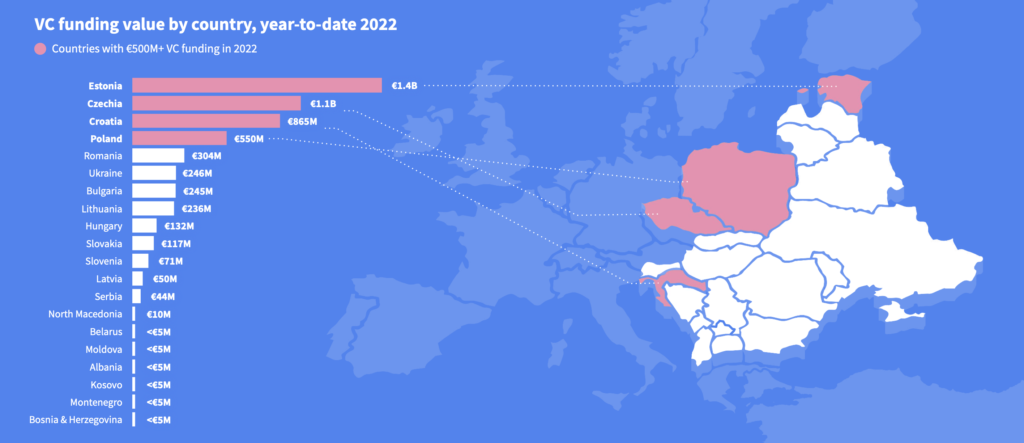 The report found that 2021 and 2022 have been the strongest years for creation of unicorns (tech companies valued at over USD 1bn) in CEE, with the number of unicorns more than doubling since December 2020.
Of these, two were Ukraine-founded companies: legal software firm AirSlate and Hosting/Web3 company Unstoppable Domains. Dealroom.co writes that "Ukrainian startups are showing incredible resilience in spite of the war and recession, with enterprise value growing 3.3x since 2020." Another two were Estonian: fintech firm Verify and marketing company Glia.
The other four CEE startups to have reached unicorn status in the last two years were Lithuania's Nord Security, Bulgarian Fintech company Payhawk, Croatian transportation firm Rimac Automobili and Czech enterprise software Productboard.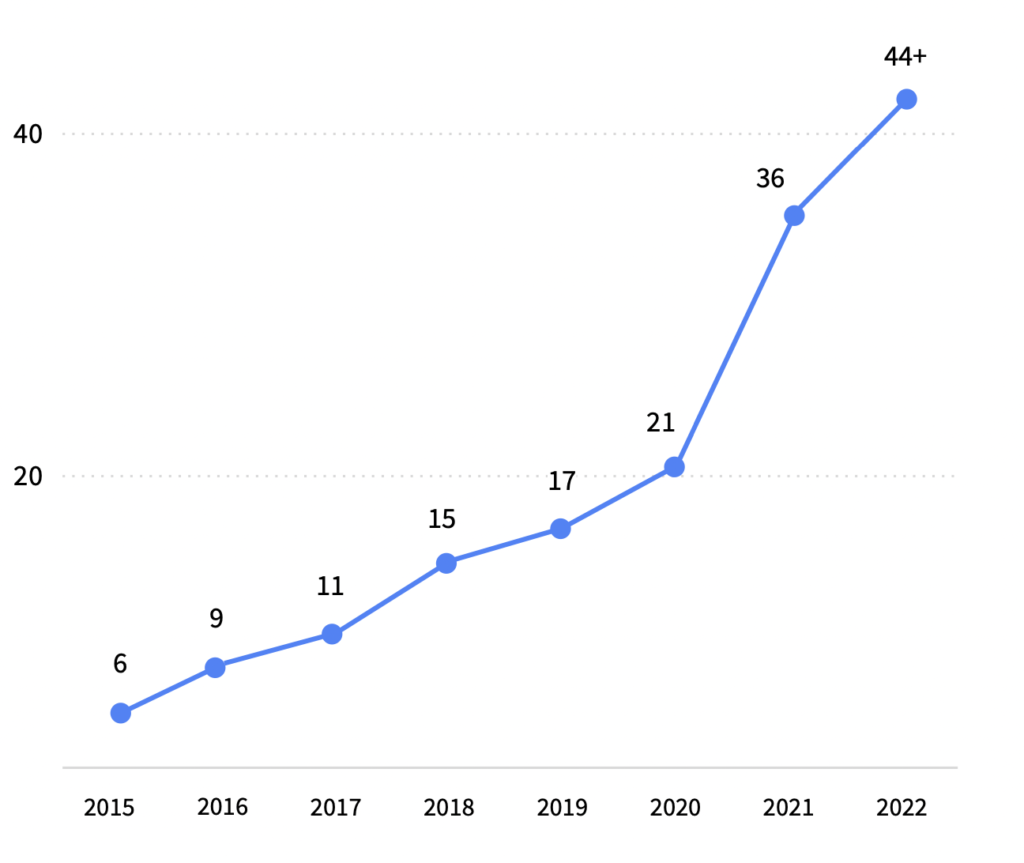 As for overall tech ecosystems, Lithuania, Croatia and Ukraine have grown fastest in combined investment value since 2017, according to the report, for which Dealroom.co combined information from multiple sources including publicly available information and verified user-submitted data.