Von der Leyen takes bold tone in state of the union speech
Reading Time:
2
minutes
President of the European Commission (EC) Ursula von der Leyen called on Europe to be "bold again" as she addressed climate change, pan-continental security and digital issues in her annual State of the European Union speech on Wednesday. Von der Leyen urged China to be more transparent regarding its carbon neutrality plans. She called the country's pledge to be carbon neutral by 2060 "encouraging", but urged President Xi to set out "how we get there".
Noting that the EU has now set in law last year's promise to cut greenhouse gas emissions by 55% by 2030, she said all major economies, including the U.S. and Japan, should present detailed plans on carbon neutrality ahead of the United Nations Climate Change Conference in November. "The goal is simple: we will put a price on pollution," she said.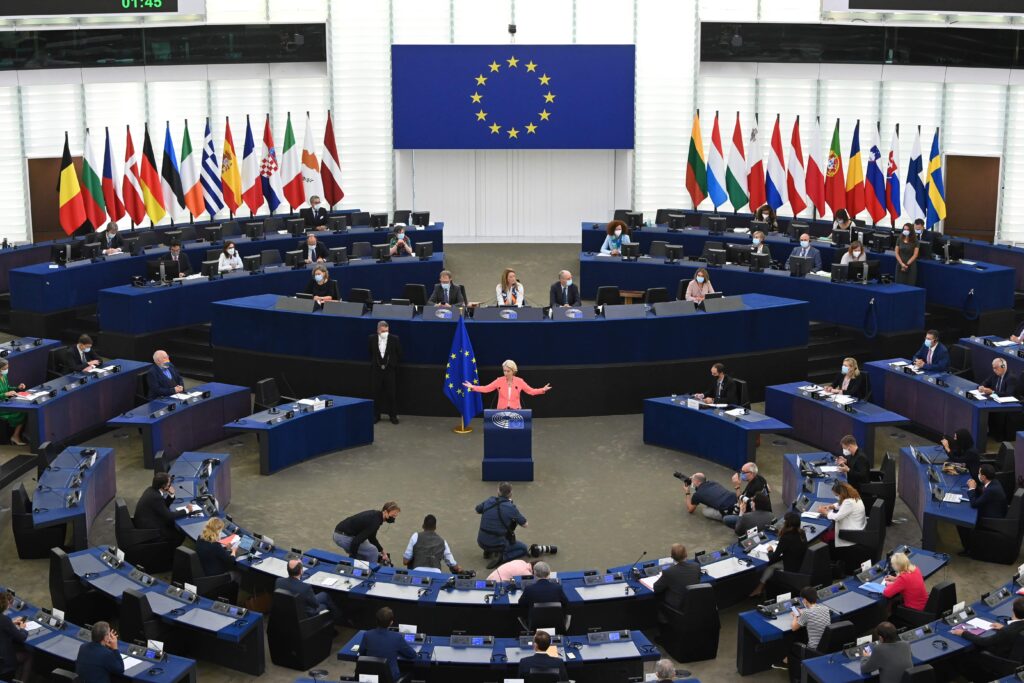 The EC president also unveiled a surprise policy move towards EU "tech sovereignty", as she announced a "European Chips Act". The planned legislation would increase the production and R&D of semi-conductors in the EU, addressing the bloc's dependence on international supply chains amidst accelerating demand from auto, telecoms and other industries. "While global demand has exploded, Europe's share across the entire value chain, from design to manufacturing capacity, has shrunk: we depend on state-of-the-art chips manufactured in Asia," she noted, and promised to "coordinate EU and national investment along the value chain".
Having told EU ambassadors last week that she would like member states to co-ordinate more closely both in defence procurement and international crisis response, Germany's former defence minister underlined that after "witnessing events unfold in Afghanistan… what we need is the European Defence Union. There will be missions where NATO or the UN will not be present, but where the EU should be," she said, adding that a new European Cyber Resilience Act will lay out a common European approach towards cyber security. As France – an enthusiastic advocate of a pan-European defence policy – will officially lead EU debates through the first half of 2022, security issues are expected to come into sharp focus from January.
Watch the full speech:
In her wide-ranging, hour-long speech, von der Leyen also pledged major investment in 5G and fibre infrastructure as well as "equally important" digital skills. "This task needs leaders' attention and a structured dialogue at top-level," she said. Regarding potential future member states in south-eastern Europe, von der Leyen said the EU is "ramping up support through our new investment and economic plan, worth around a third of the region's GDP. An investment in the future of the Western Balkans is an investment in the future of the EU," she said.