Nuclear, natural gas volumes fell in EU in 2022
Reading Time:
3
minutes
Natural gas prices skyrocketed in the second half of 2021 and 2022, as sanctions on imports from Russia, disturbances in natural gas supply and concerns regarding potential supply shortages affected the market and led to price spikes, Eurostat found in its new annual survey. Along with lower nuclear power plant outputs, these factors inflated prices in the European electricity market, the EU statistics office added.
The last three years have been marked by many uncertainties and fluctuations when it comes to energy, Eurostat commented. After the COVID-19-related lockdowns and restrictive measures in 2020, many EU countries experienced a rebound in economic activity in 2021, according to Eurostat.
Preliminary data for 2022 show a sharp drop in the supply of nuclear and natural gas, while brown coal and petroleum product usage continued to increase. After 2021 saw an increase in the supply of all products (hard and brown coal, natural gas, petroleum products and nuclear), hard coal last year reached almost the same level as in 2021, showing only a very slight dip.
The output of nuclear power plants dropped by 16.7% year-on-year in 2022, to 609,000 GWh, and by 20.1% compared with the 2017-19 average. The decrease in the supply of nuclear energy due to prolonged maintenance and shutdowns, as well as in hydropower generation connected to Europe's hot and dry summer of 2022, affected the main sources of electricity production, Eurostat explained.
Following a massive fall of 11.9% in the supply of petroleum products in 2020, the opposite has been registered in subsequent years: +3.2% year-on-year in 2021 and +4.5% year-on-year in 2022. The supply of oil and petroleum products totalled 535,142 thousand tonnes in 2022, below the 2019 pre-pandemic total of 563,116 thousand tonnes.
After the 15% voluntary gas cut requested in August 2022, natural gas, supply decreased to 13.7mn terajoules (TJ), the lowest value since 2014, a drop of 13.8% from 2021 and a decline of 10.8% from 2017-19.
Natural gas net imports totalled 13.4mn TJ in 2022, up 1.1% year-on-year, as domestic production reached 1.6mn TJ, maintaining the falling trend since 2017 (3.1mn TJ).
In 2022, brown coal supplies increased by 5.7% to 294,776 thousand tonnes, while the supply of hard coal fell 0.1%, remaining at 165,080 thousand tonnes, similar to in 2021. Compared with the 2017-19 average, in 2022, the supply of brown coal was down 17%, while that of hard coal dropped by 21.8%.
Preliminary data for 2022 indicate that gross electricity production in the EU fell 3% year-on-year and by 3.9% from the 2017-19 average. Electricity generation from certain solid fossil fuels continued to increase in 2022, following a surge in 2021: other bituminous coal was up 10%, and lignite rose by 6.7%.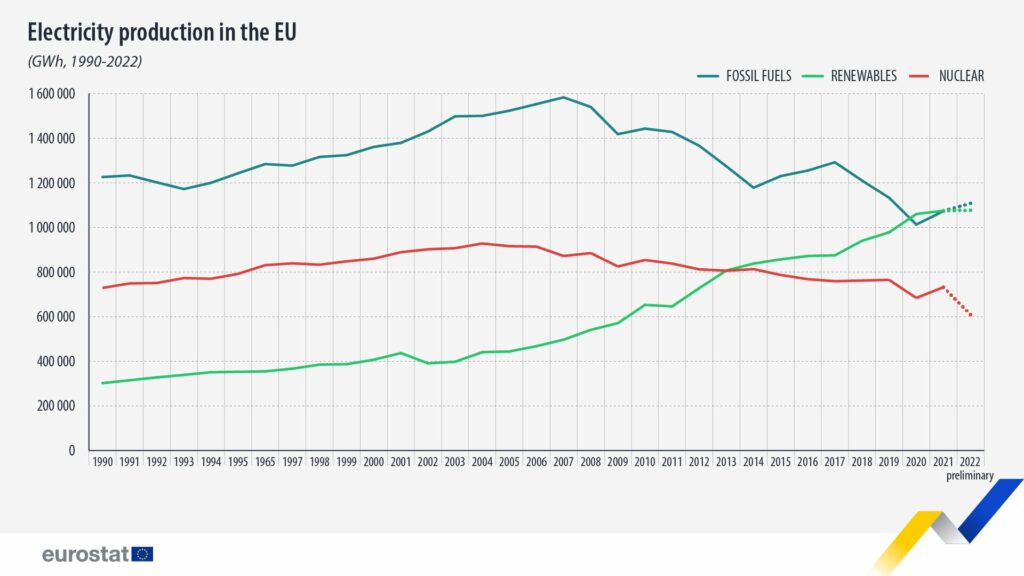 After renewable energy sources overtook fossil fuels in electricity generation in 2020, fossil fuels recovered ground and were the leading source of electricity in 2022 for the second consecutive year.
Fossil fuels generated 1.11mn Gigawatt-hour (GWh) in 2022, up 3.3% year-on-year, while renewables generated 1.08mn GWh (up 0.1%).
On the renewables side, preliminary 2022 data show the biggest increases in electricity produced from solar photovoltaic energy (+29.3%) and wind (+8.9%), while electricity generation from hydro (-17.7%) and solid biofuels (-7.4%) decreased. Electricity generation from renewable sources remained relatively stable compared to 2021.