CEE baseload electricity prices off the scale
Reading Time:
< 1
minute
Wholesale electricity prices reached all-time highs in Europe in the third quarter of 2021, spiking by 211% year-on-year, the European Commission (EC) reports. In Poland, Romania, Czechia, Hungary, Slovakia and Slovenia, average monthly prices for baseload power – the permanent minimum load that a power supply system is required to deliver – exceeded historical levels, reaching 125 €/MWh in September.
In the retail market, the three biggest estimated year-on-year falls were all in Central and Eastern Europe (CEE): Czechia and Hungary (-3%) and Slovakia (-1%). The EC notes that Hungary – a market with public price intervention, plenty of fixed rate contracts and high levels of market concentration – presents almost no correlation between the evolution of the retail component and wholesale prices.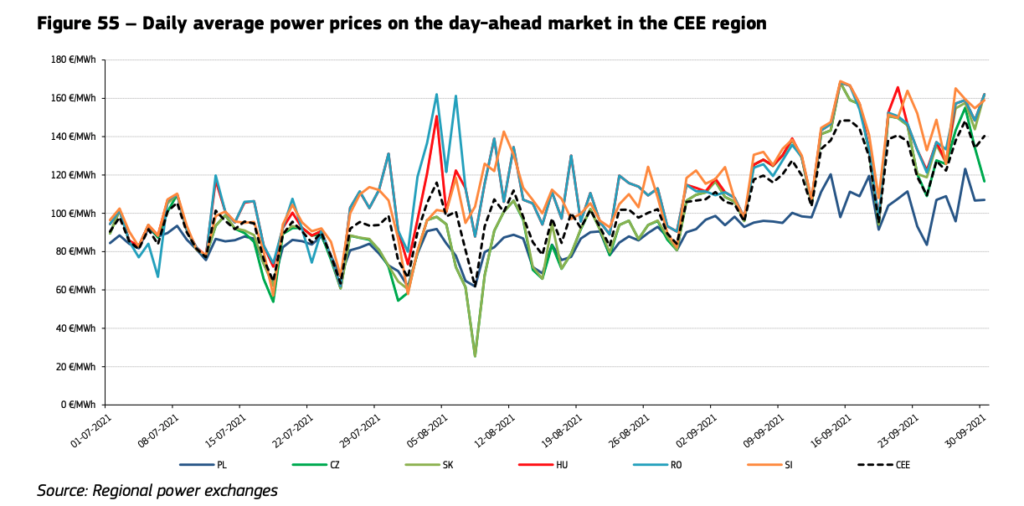 The largest year-on-year increase in the household category in September was also in CEE, as Estonia saw +53% hikes, ahead of Cyprus (+48%) and Spain (+30%). The European Power Benchmark averaged 105 €/MWh in the EU in Q3 2021, which was a 164% rise from the same period in 2019, the EU's executive branch adds.
The EC says "significantly disrupted global supply chains" had a "direct impact" on gas prices in Europe, which is "driving record highs of electricity prices" in European markets. In parallel, the carbon footprint of the EU power sector also rose by 1% year-on-year in Q3 2021, and 13% compared with the previous quarter, ceenergynews.com reports.