Renewable energy mid-term answer to soaring inflation – Berlin institute
Reading Time:
3
minutes
Fossil fuel prices in Europe have increased notably since the onset of Russia's invasion of Ukraine, the Mercator Research Institute (MCC) writes in its new report.
Higher prices affect households across EU countries differently, it adds. Financial impacts would constitute average additional 'overnight' costs for households of more than 20% of their total expenditures in Hungary, Romania, Italy, Czechia and Germany. 
A unified EU stance on Russia is made difficult by major differences in dependence on its fossil fuels. After three months of war in Ukraine, the energy price crisis has already resulted in immediate additional costs for private households, according to the Berlin-based institute.  
The policy implications of this may include targeted compensation schemes to the most vulnerable households with particularly high energy costs. The combination between a joint interest of EU countries to support Ukraine and to reduce fossil fuel imports from Russia, but a very unequal burden arising from higher energy prices, suggests implementing a sharing mechanism across EU countries, the MCC writes.
A sharing mechanism could also ensure the support of all EU countries to further reduce, or even halt the import of Russian fuels, and at the same time minimise the strategic threat of a fuel supply stop by Russia.  
However any transfer equating to national average fuel cost increases would lead to a very high cost burden for households in selected EU countries: 63% of transfers would fall on the five most affected EU countries (Hungary, Italy, Romania, Germany and Poland), with national cost burdens ranging from 6-8.3% of countries' respective GDPs, the MCC adds. 
MCC backs shift from fossil fuels to renewable, more efficient energy
Beyond transfers to alleviate short-term impacts on European households, increased efforts to reduce dependency on fossil fuels in the medium-term are necessary, for example by strongly supporting renewable energy deployment and energy efficiency across all sectors.
As a reaction to Russia's invasion of Ukraine, the EU has decided on an import embargo on Russian coal starting from August, while an import ban on Russian oil in late 2022 is currently under discussion, the institute notes.
Both Russia and the EU are considering limiting or stopping natural gas deliveries, and Russia has already halted deliveries of natural gas for Poland, Bulgaria and Finland.
Fossil fuel prices have increased notably since the onset of Russia's invasion, exacerbating substantial price increases since mid-late 2021. Higher energy prices will affect households across the EU, risking a particularly high cost burden to low-income households. Additional costs entail a high political relevance, as they have led to public protests in the past, for example by the French Gilet Jaunes movement, and the "Petrol revolt" in Sweden.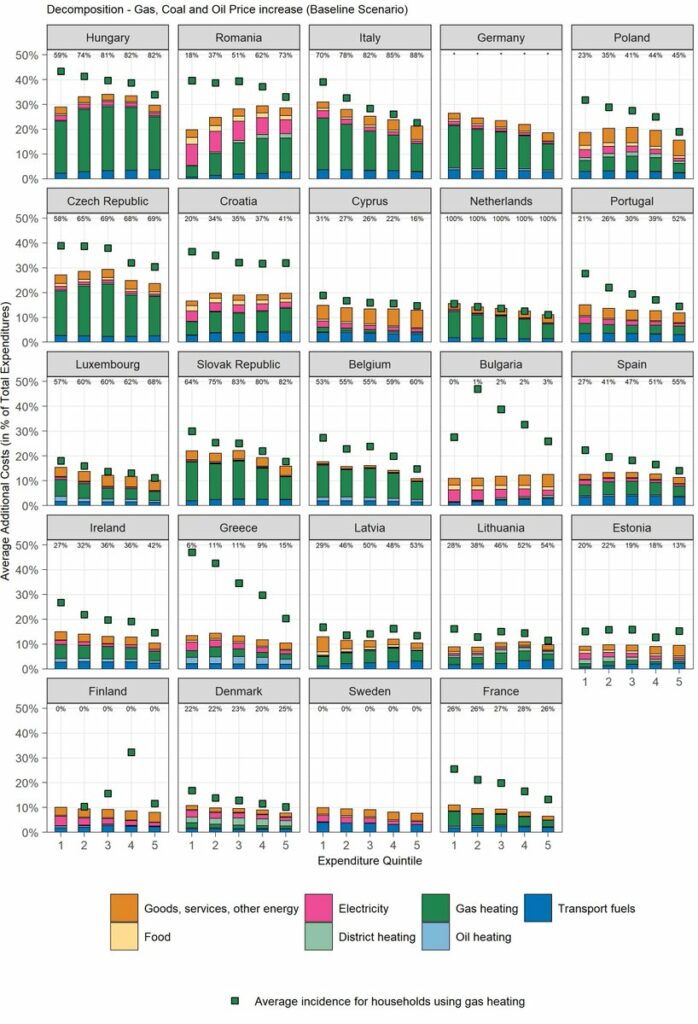 Nevertheless, higher prices will likely affect European countries differently, depending on their reliance on specific fossil fuels. For example, natural gas constitutes a large share of gross primary energy supply in Hungary (33.5%), but only plays a minor role in Sweden (2.7%), Finland (6.5%) and Estonia (7.7%). 
The cost burden strongly differs between countries, ranging between 31% in Hungary, to less than 6% (9%) in France. Within countries, differences are also huge: for example, more than 5% of Czech, Hungarian, Romanian and Slovak households would require more than 60% of their current total expenditures to afford the same amount of goods and services as before, while 5% would require less than 9% of total expenditures in those countries. 
In Hungary, 25% of the population would require more than 44% of their current total expenditures. By contrast, the vast majority (95% or more) of households in Bulgaria and, Estonia, Finland and Sweden would face additional costs of 20% at most.
Of all three fuels, natural gas contributes most to average expenditure increases in the most affected countries. The average effect of natural gas price increases differs across European countries, being higher than 15% in Hungary, Czechia, Romania, Germany and Slovakia, but only about 3-5% in Bulgaria, the MCC found.
"Prices will likely remain high, and may increase even further, depending on demand or supply reductions by Europe and Russia, respectively," the Berlin-based institute says in the paper, entitled Effects of the Energy Price Crisis on European Households.
The report analysed all of the EU-27 member states, except Austria, Malta and Slovenia for which the MCC says insufficient underlying data was available.