CEE inflation eases, but V4 still EU outliers
Reading Time:
2
minutes
Hungary remained the EU's most inflationary economy with an annual rate of 9.6% in October, an EU statistics office Eurostat report released Friday 17, November revealed. On the upside, this was the first time Hungary's inflation rate had fallen to single digits since April 2022.
The EU's top ten countries for inflation were all in Central and Eastern Europe (CEE). The Visegrad Four (V4) countries are amongst those suffering most in the region. Czechia had the EU's 2nd highest inflation rate of 9.5% in October. Romania was 3rd with 8.3% and Slovakia 4th with 7.8%.
In CEE, a middle group of Croatia (6.7%), Slovenia (6.6%), Poland (6.3%) and Bulgaria (5.9%) formed experienced the region's middling inflation rates in October.
The bottom five inflation rates in CEE were recorded in the three Baltic countries,Austria and Greece, as Estonia posted 5% inflation, just above Austria (4.9%), Greece (3.8%), Lithuania (3.1%) and Latvia (2.3%).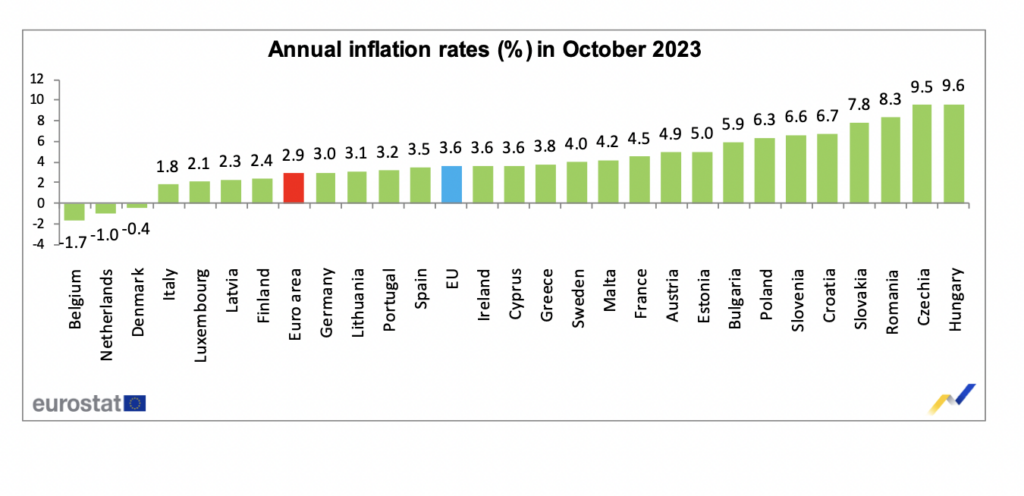 The European Central Bank wants to keep inflation at 2% in the medium term and has raised the reference interest rate to a record level to slow price growth. However the tightening of monetary policy has also limited economic growth in the EU. Annual inflation was up in 5 EU countries and fell month-on-month in 22 member states. In the bloc as a whole, inflation was 3.6% in October 2023, down from 4.9% in September and 11.5% a year earlier. 
The euro area annual inflation rate was 2.9% in October 2023, down from 4.3% in September. A year earlier, the rate was 10.6%. The lowest annual rates were registered in Belgium (down 1.7%), the Netherlands (down 1%) and Denmark (down 0.4%).
The highest contribution to the annual euro area inflation rate came from services, up 1.97 percentage points (pp), followed by food, alcohol & tobacco (up 1.48 pp), non-energy industrial goods ( up 0.9 pp) and energy (down 1.45 pp).

After around a decade characterised by flat rates, EU inflation began to rise in early 2021, and more than tripled in 2022 year-on-year, from 2.9% to an all-time high of 9.2%.