Mayor Peter Marki-Zay wins primary vote to run against PM Orban in spring 2022
Reading Time:
2
minutes
Peter Marki-Zay, the 49-year-old conservative mayor of Hodmezovasarhely, south Hungary, was announced as the winner of the Hungarian opposition primaries on Sunday night. He told cheering crowds in downtown Budapest that "our task now is to convince those who are undecided and even bring over disappointed Fidesz voters, in order to defeat (Prime Minister Viktor) Orban at the parliamentary election next April."
Having convincingly defeated left-of-centre Democratic Coalition (DK) MEP Klara Dobrev by 56.7% to 43.3% in the second and final opposition run-off, Marki-Zay – a self-proclaimed "disappointed Fidesz voter" – will now lead the opposition against Orban in the spring elections.
A total of six opposition parties from across the Hungarian political spectrum formed an alliance late last year. In recent weeks the parties have held two rounds of primary votes to select a joint prime ministerial candidate as well as individual constituency contenders. The party leaders congratulated Marki-Zay on Sunday evening, and promised to support him and work for the success of the joint opposition in April, when pollsters expect a close race.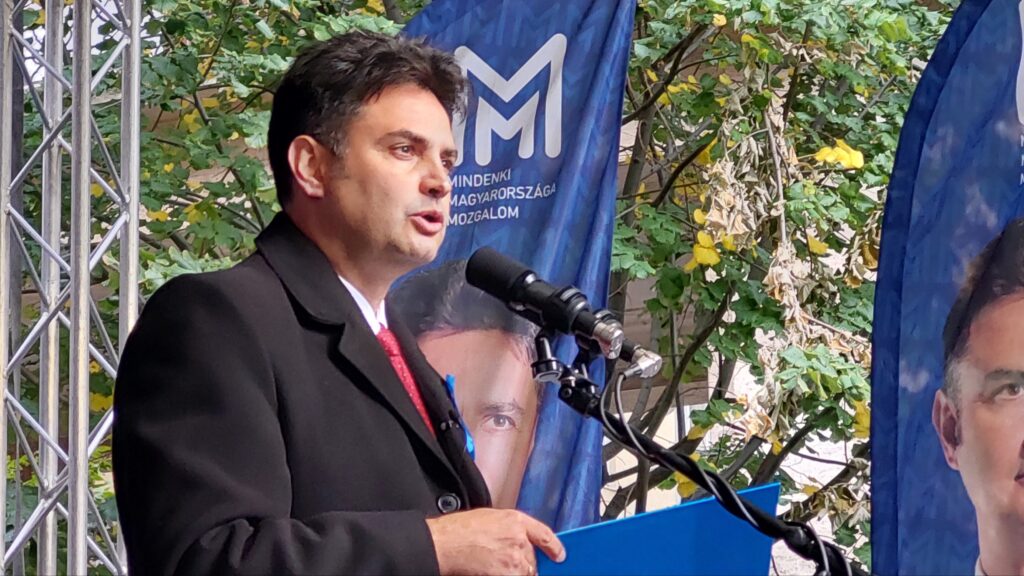 The Hungarian state media, which critics say Orban has turned into a government propaganda machine since returning to power in 2010, were slow to report on Marki-Zay's victory on Sunday night. However Prime Minister's Office parliamentary state secretary Csaba Domotor told the Saturday edition of the government-friendly Magyar Nemzet that Marki-Zay "talks and acts like a left-wing politician, and has nothing to do with the right." Noting that the DK will field the most constituency candidates in the April elections, he said "it doesn't matter who they put on display, because DK will still be the one calling the shots – it's still the old guard vying for power."
A Catholic father of seven, Marki-Zay emerged onto the national consciousness in 2018 when he defeated Fidesz in a mayoral by-election in Hodmezovasarhely, which has a population of around 44,000. Since co-founding the Everyone's Hungary Movement he has confounded predictions by successfully positioning himself as a "clean" candidate, untainted by post-regime-change corruption.
Analysts say Marki-Zay's conservative views – particularly on migration and family policy – could attract voters who oppose Orban's nationalist government but do not consider themselves left-wing or liberal. He has also promised to bring to justice those who have defrauded Hungary over the last three decades. As a pro-EU politician, Marki-Zay supports Hungary joining the European Prosecutor's Office system, which would help to facilitate anti-corruption cases. He is cautious regarding Hungary joining the Eurozone, however.
After his emergence as a dark horse candidate, it remains to be seen whether Marki-Zay will be capable of maintaining unity in the opposition alliance or – in the event of victory next April – of leading a viable, working government. Marki-Zay is a marketing specialist, an electrical engineering graduate and holds a PhD in economic history. He lived with his family in Canada and the US for five years.